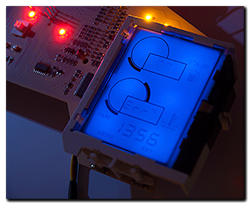 On a previous post I mentioned a visit by Mike081. During his stay I said that I'd like to get hold of another instrument panel at some point, so I could look into the circuit and programming in more detail. It just so happened Mike had a board lying around and he promised to sent it over. Well, true to his word, a Mk2 Caponord board was sat on the post-box when I got back home the other day. Cheers Mike!
First, I made a stand to support the little beauty while I prodded and poked around with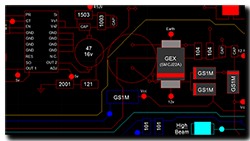 my trusty multimeter. The next job was to try and fix it! The board had a couple of problems, a high resistance track and faulty regulator but nothing too taxing. Next up, I photographed the front (high resolution pic here) and back, then imported them into AutoCAD and started the tedious task of unravelling the tracks and components (click on pic).
Next up, the EEPROM. The little memory chip that contains settings and data relevant to the running of the board and recording of mileage and trip.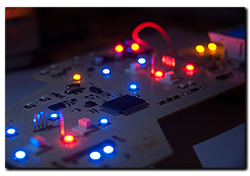 Two AF1 forum members – Michele (MCR) and Andy (Beasthonda) have been forefront in unravelling the data on the chip and how it alters the way the board works. The bottom line is that instrument panels from both the Caponord and Futura can now be reprogrammed in various ways and used on either bike. This also means that the ability to safely recover boards that have reset to factory default is now possible.
I'd like to thank both Andy and Michele for including me in the email exchange and for sending data and documents so I can better understand the particular settings for each bike – Cheers gents, you're the best!
So this week I've experimented with the alternative settings and sure enough my little board has changed from Caponord to Futura and back and dabbled in metric and imperial measurements and even been a hybrid – Caponord with Futura LCD display and Speedo/Tacho calibration.