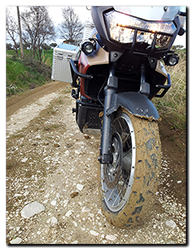 Ok I admit it ….. I posted these shots up on the AF1 forum first, but I thought I'd load them up here for posterity. If you've seen them already – tough, get over it! 😉
The Capo and I got caught out on a little muddy patch that appeared after a particularly windy day blew some of the neighbours field across a local road. Harmless when dry, but it took on the consistency of a melted hazelnut choc bar …. the one you left on the car dash when you went shopping last summer, yes that one.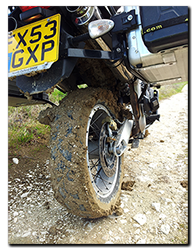 So as I rolled on in, it peeled off with the stone surface wrapping around my wheels and jamming everything solid …… enough to leave stress marks in the plastic where it was trying to lift the mudguard off! Oh joy, what fun! Stuck in Beelzebub's play-pit on tip-toe and not a soul anywhere in sight to help.
How I got out and back home is just a blur, a snapshot of tears, tantrums and praying to any passing deity within earshot … but we made it. Like Thunderbird 2 on telly, the jet-washer was rolled out and away we went, me blasting away, the sun mercilessly trying to bake this stuff on …. it was a close call I can tell you. This stuff sets like cement!
Note to self …… when it's winter, fit the bloody winter tyres you Muppet.
Keep it shiny side up – KarlB