November 2013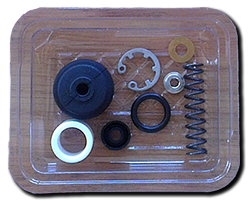 It seems the KTM repair kit 50313061000  for the EXC 125-520 range, contains the 12mm seal that fits the Caponord clutch master cylinder. This information was kindly provided by Eddie, a Capo owner in the Netherlands who has fitted and tested the seal and confirmed to me that it was a perfect replacement.
The cost appears to be appoximately £17/€19 for the kit from your local KTM dealership.
October 2016
A complete set of seals ( 2x master cylinder, 2x slave cylinder) are available from FPE Seals in the UK. These are:
SU12-6.9-4DE-EP-S-DK101   £2.50 each
SU12-5.2-3.8-EP-S-DK106  £2.50 each
SU112078-018DE-EP-S-DK101  £2.79 each
SS8-16-7-SC  £1.00 each
Contact details:
FPE Seals Ltd, 7 Barrington Way, Darlington, Co.Durham DL14WF (UK) Tel: +44(0)1325 282732  email: [email protected]
As of 24th October 2016 I have not yet fitted a set of these seals ….. therefore I cannot comment as to suitability in the Capo/Futura clutch system. Once I get hold of a spare master cylinder for the other Raid (NK03) I'll update the page.