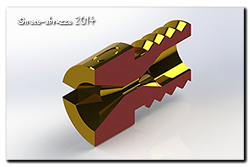 This is an upgrade that has been discussed extensively over on the AF1 forum and seems to have mixed reviews – although none negative. For some swapping to the #40 oil jet has made no difference, while others wax lyrical about the transformation of their gearbox and the ability to select Neutral.
The fact is that Aprilia made the change to the 2006+ RSVR/Tuono not for the benefit of gear selection, but to improve the oil pressure to the crankshaft and conrods. The fact this seems to improve some clutch/gearboxes is just a happy coincidence that many have taken advantage of.
Swapping the jet out is a simple task and should only take a couple of minutes, but first where is the jet located? Hopefully the following pictures will help!
#40 Jet Part numbers
(1) Aprilia AP0268751 £13.31 + P&P
(2) Dellorto 11600.40.02 PHVA idle jet £4.10 + P&P
How to ….
Make sure the area is clean and pad it out with plenty of paper towel to catch the oil and also put a block under left-hand main-stand foot to tip the bike over to the right slightly … it helps minimise the oil loss. Remove the M6x10/washer and using a quality screwdriver that fits perfectly – remove the jet. I did the job with a cold engine and the jet broke its seal to the crankcase with no drama … some have commented that the jet was very tight, maybe I was lucky! Once undone, I simply tapped the starter button, not enough to fire up the motor but enough to blow the jet out with a little oil pressure. Simply reverse the process to install the #40 jet, clean up and have a cold beer while you admire your work!