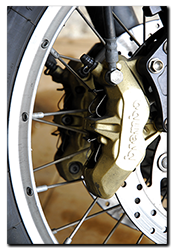 Let's get this clear from the start, the front brakes fitted as standard to the Caponord and Rally-Raid (and KTM 950 for that matter) have nothing inherently wrong with them. They work just fine for this style of bike. So why upgrade?
A few reasons really, firstly vanity – I don't like the look of sliding pin calipers. And secondly, I don't like how sliding pin calipers operate, they WILL stick eventually, guaranteed. Additionally of course, these calipers should give greater braking performance over the stock ones.
The Bracket & hardware
This of course is not an off-the-shelf item and mine came via a group-buy from an Italian AF1 forum member (Brucaliffo). He in turn is the English speaking intermediary for his friend the machinist who makes them. The last I heard (July 2012), the brackets are still available but only if enough owners come forward to make a production run viable.
Bolts were purchased from ProBolt here in Italy. 2x M10x35, 2x M10x45. 2x M10 nyloc nuts were sourced locally. All the hardware is in stainless steel and yes, although it does have a shear strength below 8.8 steel, I still feel it has a sufficient safety margin way above the loads they would see under braking. But in the end, make your own choice!
The Calipers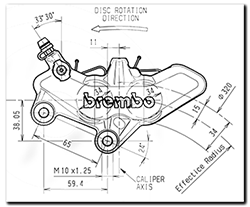 I used the triple-bridge Brembo calipers (P4/34) as I preferred the looks compared to the simpler P4 30/34 which uses two brake pads as opposed to the triple-bridges 4 pads.
A search online uncovered a nice set in gold complete with lines and master cylinder from an Aprilia RSV1000 – almost new in condition, all for €100.
Fitment
The nice thing about this upgrade is that the original Caponord brake lines can be used. So I simply removed the old calipers and bolted on the brackets and new calipers in their place. As a precaution, I also dropped the front wheel out, removed the disks and rubbed them down to remove any glaze or contamination, ready to bed into the new pads. Total time was 1.5Hrs from start to finish.
Conclusion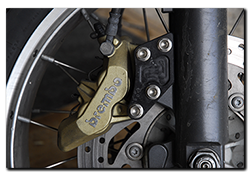 I have to admit that this section is being written over 6 months and 8k miles after the calipers were fitted, but that's no bad thing. Once bedded in the brakes have been excellent in performance …. I'd say at least 50% better than original, and that's being conservative! Pad wear is minimal with plenty of pad still available, I estimate about 3mm of the original 4.5mm.
So as upgrades go, I'm glad I did it. They look great (certainly compared with the originals!) and two-finger braking is more than enough for me on a day-to-day basis.