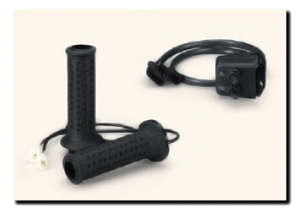 Today I'm looking at the Aprilia heated grips and hazard switch kit – part no: AP8796734 (Capo 01-03) or AP8796733 (Capo 04 onward & Rally Raid) that I fitted to my Rally Raid in mid 2009.
The Bad….
Lets get this out of the way first … see the box with two switches on it? In all my life I haven't come across such an awful piece of kit from design, to material selection, to construction – period! Oh it works alright, but it's ugly, lets water in and deteriorates before your eyes almost by the second. It's awful … It should never have been sold to the public!
The Good….
The grips are nicely made and fit very well – they also last well (3 years on and little sign of wear and tear and still working fine). 2 heat levels are provided by switching between series and parallel operation, even so they could possibly be a little hotter, but I'm hoping the upgraded Rec/Reg will give a welcome voltage boost that'll be noticeable. Also the wiring looms are well made, with Delphi waterproof connectors as standard. So this is a complete kit, with plug and play wiring and all the bits to do the job, cable ties, new indicator relay, screws and a pretty comprehensive set of fitting instructions (download from menu bar).
….and the upgrade!
It was only a matter of time! Basically I ripped the switch box apart and removed the wiring and LED. I then marked up each of the upper side fairings and cut 30x22mm slots for the two new switches. The wiring loom was split into two, one for each side – it's easy and comes with loads of wire.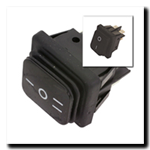 Switches used
• 3 way IP65 rated rocker switch – Maplin part no: N20CL –As of September 2017 this part is no longer available through the Maplin website but does appear via Maplin through EBAY!
• 2 way IP65 rated rocker switch – Maplin part no: N37CF
The new switches were fitted and looms attached and routed to the original places. This has now removed the ugly box and loom from the handlebars and kept everything nicely snug under the fairings and instrument panel.
Conclusion
Is it worth the cost? Well I guess not really. Many other kits are on the market do the same job for cheaper.
Was it worth fitting? Here I'd have to say yes …. In it's modified form it's neater than any aftermarket kit, it's fully waterproof and it fits directly into the original loom – no cutting required.
A few more pics that might be of use