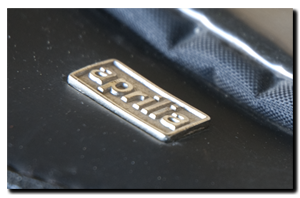 Is it worth buying the Aprilia branded tank bag (AP8792174) for the Caponord? Let's face it, OEM accessories are expensive and not always the best for the intended purpose. So after nearly two years with the Aprilia bag I can honestly say – yes – it has been worthwhile buying it.
Why?
Well firstly, it fits! The Capo has an odd tank shape with two cut-outs to accommodate the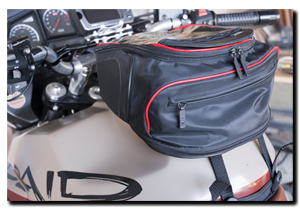 bar ends on full lock and it's that steering lock that's the issue. Most other tank bags would either need to sit right at the back of the tank – in your crotch – or be quite narrow. Ok, so it's designed to fit the bike, but that has it's own issues ….. the clear map pocket is now an odd teardrop shape making it unusable for A4 sized maps. In fact it's best suited to holding something about the size of a 'Tuffmap' – A5 ish in size. A plus point though, is the wide pocket at the rear – ideal for holding spare change for the motorway tolls! Also tucked into the base are a pair of straps so it can be used as a back-pack when away from the bike, but they're quite short and not really suited to fitting over a bulky textile suit and body armour …. more a t-shirt or fleece!
Flexibility comes in the form of the zip at the bottom that allows the bag to expand –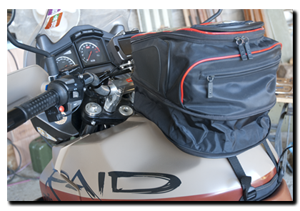 almost doubling it's capacity. Although of course it does become a bit more intrusive when expanded to this size.
Build quality seems fine, I've had no problems with zips or stitching to date, although I'd have to say it isn't as well made as my old Givi Voyager and I don't think it'll last as long .. but time may prove me wrong!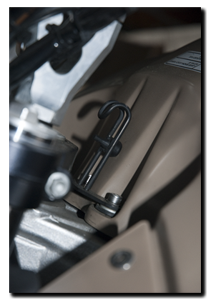 Mounting is done using the hook at the front of the tank (part of the tank bag kit), then secured at the rear by two straps. The strap saddle harness is attached by screw and velcro to the seat base. Like learning to tie your shoe laces as a nipper, getting used to fitting and removing the bag is a bit awkward to start with, but gets easier with time. Personally, I'd like to have seen the seat attachment done by 'click' connectors rather than threaded straps.
Ok, so now it's on, it's comfortable to ride with and I've developed fitting-strap dexterity to make Formula 1 rapid refuels. But how does it hold up to the elements? Simply put, it doesn't ….. a few minutes of rain will see it worming it's way inside. So time to get the supplied rain cover out. And it's here we hit another glitch. The cover is a tight fit with a clear top and access to the zip poc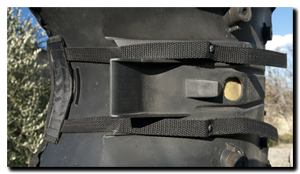 ket at the back of the bag …. all well and good. But it's designed for the bag in it's extended – full size – configuration, which means that however well you fold away the excess material, a few minutes ride has the damn thing inflated like a bouncy castle! Which is damned annoying if nothing else. So I've taken to using a couple of velcro straps to tie it down when I have to use it in bad weather…..works fine.
So overall, minor flaws – yes, but well suited to the bike and certainly ticks the usable and durable boxes for me. I give it 8/10.
UPDATE: Well it's now September 2013 and the bag and mount are still performing faultlessly. No seams coming apart and all zips working just fine. I can't see me replacing it any time soon, so I've got to give it 10/10 for wear and tear over the past 4½ years of use.
UPDATE – 2: May 2016 and the bag keeps rolling on. The red piping around the edge is sun faded and the front mount (headstock) could well do with repainting, other than that it's as useful now as it ever was. No broken zips or failing stitching – even the clear top panel isn't yelllowed or split. Total time in use – 7 years 2 months.