The Rally Raid comes with a completely different handlebar set-up to the standard Capo … a machined aluminium mount and 'biconnical' (dual diameter) bars. The bars are made in Italy by Accossato and appear to be the 'Touring' bar on page 15 of the catalogue – AGTRM00.
Aprilia chose not to fit the cross-brace, or offer it as an accessory – frankly a mistake, as many people want one to attach a GPS or other accessories to. Initially, not knowing the bar brand, I tried a Touratech brace. It fitted, just …. but needed 40mm removing from the bar to make it fit comfortably. It was also designed for 25mm tube diameter and not the larger 28.5mm of the 'biconnical' bars. Bottom line, it worked but it looked a bit 'square peg, round hole' if you get my meaning.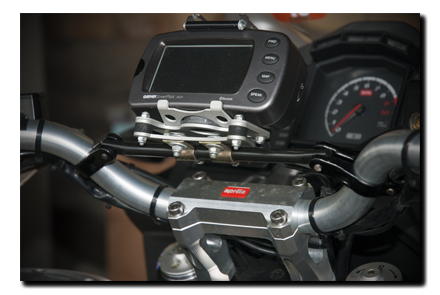 Eventually, I managed to find an Accossato cross-brace. Made of aluminium and powder coated in black, it fits perfectly. As seems normal these days, it came with awful mild steel hardware …. a quick rummage through my stainless 'stock' had the right screws fitted.
If you want to upgrade a standard Capo to the Rally-Raid bars, you'll need part number AP8796735 – at a cost (March 2013) of approx. £137.00 inc p&p. This is a complete kit – everything you need to swap over.