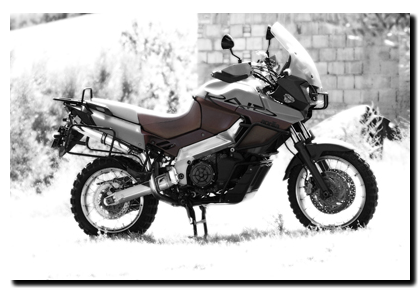 2003 Aprilia Caponord ETV1000 Rally-Raid

The Aprilia Caponord ETV1000 first appeared in 2001 and was updated in 2004 for the remainder of its production life – ending in 2008. The post 04 models appeared with and without ABS, also losing the lights off/on switch at the same time – becoming 'Lights Permanently On' – (LPO).
In 2003 a special version, the Rally Raid was introduced with a production run of approx. 350-380 bikes (19 to the UK). Rather strangely the RR never had ABS but was fitted with ABS ready wheels (and brake rotors) …. in fact the RR introduced all the changes seen on the 04 bikes a year early. I can only assume that the ABS was not finalised before the RR was to be offered to the public.
The Rally Raid differed in many ways from the standard bike, not just cosmetically. Even the frame and swing arm are different part numbers. A genuine Rally Raid also has a different chassis number – ZD4PSB0003******* while standard bikes are numbered ZD4PS0001, 0003 or 0004.
Basically, the differences are:-
• New upper fairing/subframe and indicators (also fitted to 04 on)
• Uprated Sachs suspension, fully adjustable front/rear with 50mm more travel
• Higher front mudguard
• Biconical handlebars, alloy mount and handguards
• Sump guard and engine protection bars
• Center stand
• Aluminium silencer shields (also fitted to 04 on)
• Hepco-Becker Alu Exclusive 41L panniers
• 'Raid' paint scheme
• Different saddle shape
• Set of Metzeler Karoo tyres as well as standard road ones*
*The certificate of Conformity for the Rally Raid specifies two tyre options, standard 'V' rated and the 'R' rated M+S enduro tyres. The standard Caponord is V rated only. Fitting Karoo/TKC80 etc. to a standard Caponord in some countries could get you a hefty fine!
Aprilia Accessories
• High/Low seat options
• 30L matching top box and mount (also 45L version available from Hepco-Becker)
• Heated grips & hazard warning switch – (see here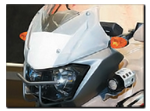 )
•Tank bag
•Headlamp guard
•Driving/Fog lamps (This option never appeared in the accessories manual although it was seen on pre-production bikes at motorcycle shows.)
Manuals and brochures can be downloaded from the menu bar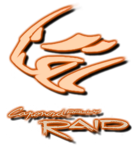 Quotes from the UK magazine 'Bike' issue number 365
"Engine-wise there's an abundance of torque from 2500 rpm onward, which punches the bike out of low-speed corners. The fuel injection is clean and crisp, adding an urgent feel to the way the engine pulls. There's none of the lumpiness at low rpm that's often associated with a large capacity v-twin. Wind the throttle open at 4500rpm and there's a wave of torque that makes overtaking A road traffic satisfyingly easy. Let it rev beyond 6000rpm and it continues to pick up pace in a way that a BMW GS can't match. And there's none of the vibrations and buzziness that affects the German Boxer twin. "
"Off-road, on gravel strewn dirt tracks, each twist of the throttle has the 998cc engine sending the back end sliding sideways. On an R1150GS Adventure, you're aware of the sheer bulk of the bike and tread cautiously but on the Rally Raid – even with the massive aluminium panniers in place – I felt in control and it was fun messing around"
"So where exactly does the Rally Raid fit into the adventure touring market? In terms of riding, it sits directly between the R1150GS Adventure and the KTM 950 Adventure. It's a well-judged compromise between the agility and power of the KTM and the long-distance comfort of the BMW."