Alternative parts
---
Fuel Pump Aprilia No: 8106629 only sold as pump and mounting plate at £331.62 inc. VAT (May 2020) – still available from Ultimate parts UK. The pump itself can be replaced with:
Etecno1 EP2230 /Airtex E2068 / Bosch 0580453427 / Fiat 46480607 / Italdis 800.08.427 / Sidat 70427
There are many more manufacturers than this. Just cross reference the EP2230 to find what's available in your area. Expect to pay no more than £40 or so …… way less than £305 anyway!
---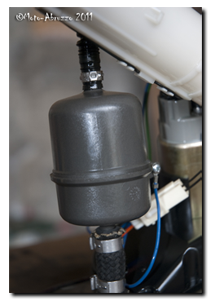 Fuel Filter Aprilia No: 8102971 – £22.74 inc. VAT (May 2020) a FIAAM FT5452 that I've not been able to source independently. Replace with:
Ducati 42540101A – expect to pay about 2/3 the price for the exact same filter as used by Aprilia!
Alternatives appear to include the Knecht KL145 and Mann MWK 44 all of which are metal canisters instead of plastic. Take extra care when fitting the anti-static cable (blue in the photo opposite).
---
Fuel Level Sender Unit Aprilia No: 8124588 – £68.51 including VAT (May 2019).
No alternatives appear to have been sourced as of this date. In June or July 2019 I hope to replace mine and will then strip the old unit with a view to repairing it ……. This LINK will go live once a page is generated for it.