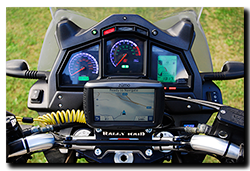 For the past six months the eight year old Garmin 2820 has steadily slid its digital cheese off its cracker, forgetting the date and time and generally making a meal of locating satellites. Add to that an annoying habit of swapping screens at random and it's easy to see why it's not my best-buddy it once was! Nope …. time for a change.
Which ties in very nicely with Manuel at Motrag.com loaning me a Capo-specific mount for the Garmin 590LM to try out. Unlike the Mad-Maxesque contraptions that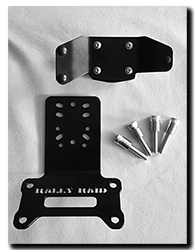 Touratech supply, the Motrag unit is clean and simple …. and pretty uncomplicated. The mount consists of two parts, the 'Base Mount' that bolts to the handlebar clamp (all bolts and spacers supplied) and the 'Micro Mount' of choice based on the GPS unit to be fitted. This is attached to the Base Mount via four rubber anti-vibration mounts, again with stainless steel screws supplied.
The 590LM comes with its own bracket for powering the unit and locking it in place, this simply bolts to the Micro Mount which provides the extra support for use in rougher terrain. When the GPS is tucked away in a bag and the 'Zumo' cover fitted, the mount is much less in-your-face unlike the Touratech one ……. plus a lot less angular, aggressive and sharp-edged, which is no bad thing.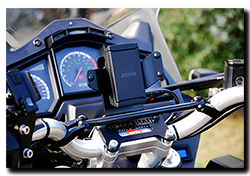 First impressions are excellent, it holds the GPS perfectly and vibration is virtually none existent, the whole thing is unobtrusive and the powder coating looks like it'll outlive the Capo. The laser cut 'Rally-Raid' is a nice touch and just so no-one feels left out – the mount is available with 'Caponord' as well! As always, where possible Manuel supplies stainless steel fasteners that match the look of the OEM Aprilia fasteners – a nice touch. Currently Motrag have Micro Mounts for the Garmin 340/350/390 and 590LM with one in development for the TomTom Rider. Base Mounts are also available for the Multistrada (2012-14) and Hypermotard (2014 on). The cost is €38.95 for the Base Mount and €63.95 for the Micro Mount. The Micro mount in supplied with a plate and clamp so it can also be fitted to a cross-bar or a Ram Mount, in which case you don't need to buy the Base Mount.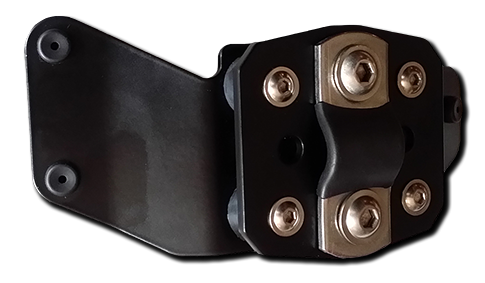 At the time of writing, I've done about 450 miles with the mount fitted, some on VERY poor mountain roads and everything is fine. The dashboard is still clearly visible (rider 182cm / 5ft 11inch) and the mount angle goes a long way to limiting screen-glare. I look forward to reviewing the mount along with the Motrag fog-lamp brackets in six months time when the Capo has a good few more miles and a winter under its belt.