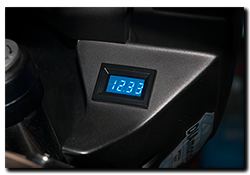 I've already got a voltmeter in the right hand fairing and although I wouldn't be without it, I have to say it suffers from a  couple of drawbacks.
Poor readability in very bright daylight (Blue LED display)
Low down in the fairing, so requires eyes to be diverted from the road ahead.
I also have to lean forward a little to see over the hand-guard/brake master cylinder.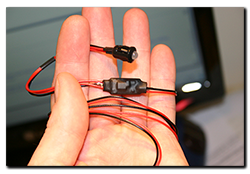 So I decided I wanted something more in my eye-line, something that simply displays as a go/no-go indicator, something simple; and it looks like SparkBright have just the solution. A neat encapsulated circuit feeding a Tri-state LED that will display a different colour depending on the system voltage. Now my peripheral vision should quickly spot a change in the Caponord system and give me ample time to take action. Here's a table that explains the various states of the LED at different voltages.

 The package can be supplied with LED sizes of 5mm/8mm or a whopping 10mm. I chose the 5mm as it will match the one I already have in place for the Autoswitch AS7 (fog lights).  Before ordering I had a couple of questions and sent off a quick email – bear in mind this was a Sunday morning. Before I could even read through the Sunday funnies, Andrew Ferguson owner and guiding light behind SparkBright had replied – now that's dedication! the bottom line – It does what I want and it's waterproof, ideal for motorcycle use then!
Anyway, long story short, Andrew agreed to make a change to the mounting clip for the LED (at no extra cost – see gallery below for clip differences) and also told me of an exciting new development just around the corner for this product; auto-dimming built right into the LED for the 8mm and 10mm options. Sadly it won't be available on the 5mm version for some time to come. However, this bit of technology is something the Capo is aching for on the Autoswitch Red/Green LED (fog lights) I already have fitted. By day it's fantastic, but by night it's just a little too bright.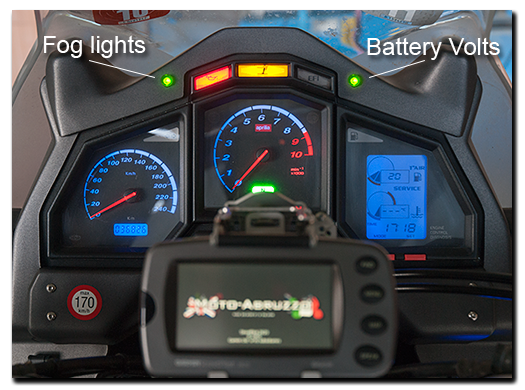 LED symmetry. Hopefully !!
So I'll wait for Andrew to send this unit and if it does what I need of it, I'll no doubt upgrade to the 8mm auto-dimming version and retro-fit this one to my tractor ….. about time I dragged it screaming into the 21st century. And maybe if I ask nicely, he may be able to help me upgrade the Autoswitch LED as well!
You can contact Andrew direct at [email protected] or bookmark www.sparkbright.co.uk (website should be up and running by the last week of October). You'll also find them on Ebay, just search for "12v battery warning light". The cost? £11.80 including P&P (UK) as of 21st October 2012.
  I'll finish by saying I have no affiliation or involvement with Andrew other than as a customer – I just like the product!