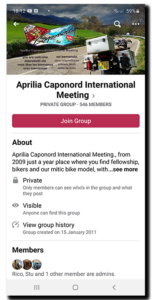 I don't know if I should be flattered or annoyed … or a little of both, let me explain. I had just had a chat with my wife about a press release from ACEM regarding the dire downturn of European motorcycle sales. As the conversation started, she got confused with ACIM – the Aprilia Caponord International Meeting …. and that sowed a seed at the back of my mind to have a look on the internet to see what ACIM was up to. All well and good.
Later that evening I found them on Facebook and lo and behold, the group banner picture is of my old Caponord on a back road in Abruzzo! In fact it's a picture of mine lifted from a post I wrote a few years ago (the post). So now I am a tad curious to see if someone from ACIM reads this over here then says something over there ….. 🙄
Anyway, I'm glad someone liked it enough to use it!