While some of you may find the following post trivial or questionable and others may think it as anal as colour grading belly button fluff ………. I sincerely and unreservedly, don't give a flying duck. KarlB March 2016

"Neither the mouse nor the boy was the least bit surprised that each could understand the other. Two creatures who shared a love for motorcycles naturally spoke the same language."
Beverly Cleary, The Mouse and the Motorcycle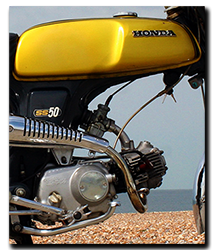 I seem to recall it was back in 2007 that I read a piece in a UK bike magazine, in which the journo waxed lyrical about documenting a riding time-line ….. Laying out your bikes, accidents, countries visited, mileage etc. since you first threw a leg over a bike to the present day.
I admit the idea was intriguing. Our bookshelves held all manner of manuals*, dockets, documents and diaries from every bike I'd owned and company/despatch bike I'd worked. It took about 12 months on and off to go through everything and assemble it onto a spreadsheet. The end result was quite surprising, the only missing information seemed to be loan/courtesy bikes and training school instructor/student bikes I'd ridden when not using my own. So it's fair to say the number twinkling on the screen was several thousand miles short, this counteracted very nicely with the fact that bike odometers are woefully inaccurate and over-read. Bottom line – I felt the overall mileage displayed reasonably reflected my riding to that date.
Each following year the spreadsheet was updated with the Capo's mileage and each year it never really looked like it changed much – until this year. In late January I realised I only had a few miles to go, so a reminder was stuck on the Capo dashboard – When the odometer hits 90,898 – you've done it fella.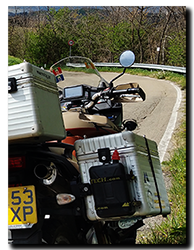 That day has finally arrived. On a nondescript little back road the Capo rolled to a halt, I switched off, fumbled for the camera and took a moment to look around and reflect on the years, roads and miles that led me to this point ……………. all 1,000,000 of them.
*Each bike since my first Honda SS50 has had a Haynes, Clymer or genuine workshop manual from day one – not one of them has ever been dealer serviced. Each has the mileage on purchase, mileage at upgrade or repair and final mileage when sold added in the fly-sheet. The Capo is the first bike to be totally digital – manual, parts lists the whole nine yards.