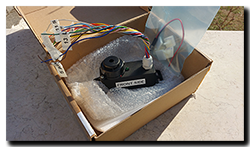 Firstly may I say that we here at moto-abruzzo wish each and every one of you a very Merry Christmas and hope that 2018 brings good roads and big smiles on those shiny Caponords of yours!
Secondly, fellow Capo owner and electronics whizz Michele from Italy (MCR on AF1 forum) got in touch about his Mk3 'Capogiro' unit. Based on the BMW Dynamic Brake Light system, it uses a microcontroller and a 3-axis gyro/accelerometer unit to control the brake light and hazard warning lights, as well as having other useful outputs. In a nutshell the DBL function is:
Normal brake light function under all light/medium braking conditions
Brake light pulsed at 5Hz when braking hard (>0.35g) from between 14Kmh (9mph) and 60Kmh (37mph)
Below 5Kmh (3mph) normal brake light function is restored
If still braking hard at below 5Kmh (3mph), the hazard lights are turned on automatically
They will then remain on for 60 seconds OR until the speed is greater than 20Kmh (12mph) for xx seconds
This then is the primary function of the unit. But Michele didn't stop there, he's added a raft of other useful functions as well, including:
Add a handlebar switch and you have rider switchable hazard warning lights
Drop the bike on its side and the opposite (high side) pair of indicators will operate in a kind of half-hazard mode to alert others of an obstruction on the road
Leave the indicators on too long and the system will give you an audible alarm to remind you to turn them off …. who hasn't done that!
A basic but useful alarm function. Add a hidden switch and intercept a relay and the unit will use the gyros and accelerometers to know if it's being moved and set off the horn/hazards as well as immobilise the engine.
It also has the ability to do what Aprilia never did – keep the headlights switched off until the engine is running, then turn them on, vastly reducing battery drain on starting.
And last but not least the ability to interface with an eCall device that alerts others that you may need assistance.
Each of these functions is well thought out with outputs all protected and battery status being analysed so as to not activate certain functions which could possibly prevent the bike from starting due to low voltage. All in all, a well thought out and professionally built unit. All this fits into a neat 122mm * 39mm * 31mm package that is designed to locate on top of the headlight behind the windscreen. Granted, if you use all the functions then there are a fair few wires to be connected, but if you don't want to use a particularly function(s) then just don't hook up those particular wires, easy! And the cost for this little box of wizardry …… currently €120, not cheap granted, but for the safety features and added additional functions thrown in, I think it's well worth the money. You can download a copy of the installation instructions in English HERE or in Italian HERE.
OK, sounds great but is it legal to use? Well BMW have added a similar system because it conforms to EU legislation and they sell bikes fitted with it in the UK. But the fact is they DO appear to fall foul of the Highway Code rule 116 (watch their own videos):
---
"….. You MUST NOT use hazard warning lights while driving or being towed unless you are on a motorway or unrestricted dual carriageway and you need to warn drivers behind you of a hazard or obstruction ahead. …… "
---
In other words, if the hazard lights activate while moving on any other road than motorways/unrestricted dual carriageways then that's a legal no-no …. even if it is helping to save your pride and joy (and skin) from some inattentive muppet driving too close behind!
So the bottom line seems to be that a big manufacturer can bend the rules but we, no doubt cannot. Fitting it then may be legally questionable, on the other hand if it increases safety, makes no visible changes to your bike in day-to-day use AND will most likely never be noticed during an MOT test or roadside inspection ……….. well then that's up to you, I cannot condone anything that would possibly break local or international law in any way shape or form, no siree Bob. Me? I'm only testing it off-road of course. 😉
If you're interested in more information or would like to buy on, please drop me a line with your details and I'll forward them to michele for you.
And that just leaves me to express my own gratitude to Michele for not only sending me a Capogiro to try, but also sharing 'under the bonnet' details so that I can get a better understanding of how the functions work. I owe you one Michele! 😀