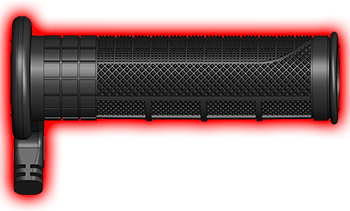 After a couple of rides, here's the verdict on the Oxford Adventure heated grips – utterly Fantastic! Not only are they awesome in their toastiness, they really do help my old wrist as well. The extra diameter and better texture compared to the Ariete grips is lovely!
One thing lacking in my riding over the last few months has been blip-ability, the quick tweek of the wrist to grab a few revs … almost every downshift became a novice-style, crunchy-clunky affair, blips either non-existent or late. The head was doing the throttle blippy thing but the wonky wrist just couldn't or wouldn't play ball. Fair to say my blip-mojo was lost in sore tendons and swollen joints.
Now with fatter grips I'm chuffed to say my blip-mojo is back with a vengeance, sharp, snappy downshifts complemented with slick as Slick-50 on Teflon clutchless up-shifts as we slice through bend after hairpin bend. If the grin got any wider I'm sure the top of head would have fallen right off. At last, me and the gearbox are best mates again!
But that's only half of it – These things work superbly as HEATED grips as well! With the days now struggling to reach 10-12C and wearing summer gloves, it takes but a couple of minutes at 100%, then swiftly backing the heat down to 40% before my fingers catch fire! That's way better than the Aprilia grips ever performed. I do wonder if a big part of the Aprilia grips poor performance was not only down to the high-resistance heaters, but also the feeble wiring to the grips. I swear that stuff is rated to little more than 5 Amps, maybe 8 Amps on a good day with the wind behind it! Either way, they're history now after a sterling 9 years service and I'm looking forward to seeing how well the Oxford grips last. Bring on a January ride through Switzerland ……. 😯