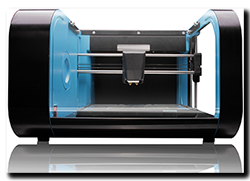 Yesterday, on a rather cold and wet afternoon, moto-abruzzo took a step into the future ……. courtesy of a good friend that I'm doing a project for. A 3D printer arrived! And being the top man that he is, he's cool about me printing off those odd little Caponord bits-n-bobs.
It was rapidly unpacked and Jan and I stood in awe at this little box of awesomeness, we oooo'd and aaaah'd in all the right places …. then it was time to fire the beast up. But first a good nights rest. Early the next morning I loaded up a model and hit the 'MAKE!' button. My heart pounded as it hummed, rumbled and whired into action. For an hour it beavered away – then stopped dead! In fact everything stopped – ANOTHER BLOODY POWER CUT! So on with the coat and off to buy a UPS (Uninterruptible Power Supply) to keep computers and printers running when we get these annoying micro/mini power cuts that last no more than a second or two but mess everything up. Once installed I was away like a whippet on speed ……. by the end of the evening we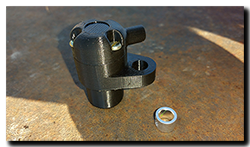 stood and marvelled at its first creation – A Mk1 speedo sensor case.
Like any piece of kit it has a bit of a learning curve attached to it, but hey, that's all part of the fun. Here's a pic of the first printed Capo speedo sensor main case and cap. The holes print really well even at this resolution and tap to M3 no problem. The sensor is a nice snug fit and (thankfully!) it fits in the brake caliper carrier and even the bolt lines up which is nice! So overall – moving in the right direction. Now I just need to order a couple of sensors, some cable, rubber boots and Molex connectors and the jobs as good as done. Then I can change out the sensor on the bike, run it around for a while and see how the printed parts hold up to life on a motorcycle.
Why bother with all this?
Have a look at the cost of a replacement sensor from Aprilia (AP8124985) ….. currently £112 plus postage from Fowlers and Ultimateparts in the UK and €146 (approx. £127) from wendelmotorraeder in Germany. OK it's much cheaper from AF1 at £65 but the postage is higher and you may well have customs duty to pay – all bumping up the cost.
So …….. IF (a big 'IF' mind you) it tests OK over a couple of months and possibly a small batch were to be made, would anyone be interested in an aftermarket Capo speedo sensor for half the price of an original?
Anyway, until then what's next ……. hmmmm.
Hybrid velocity stacks – Caponord height with Futura diameter (51mm)
Hi-Flo airbox snorkel
Frame/axle/crash bar bungs (insects use the orifices as nesting sites!)
……. and maybe even a 1:5 scale model!! 😀