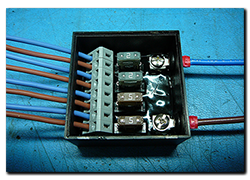 Unfortunately, due to circumstances I won't elaborate on just yet, I found myself with a bunch of cut accessory cables sorely in need of a home! So step forward front-and-centre the fuse block made by Beasthonda (Andy) from the AF1 forum.
Truth is I'd had this pre-production block sat on my workbench for about three years! Andy kindly sent it to me without the PCB being potted in place so I could have a look at the circuit board. I never got around to potting it and so it sat all forlorn in the corner. Time then to dust it off and put it to good use.
I decided to mount it to the underside of the pillion seat decking – Aprilia call it the luggage rack – so I made up a bracket that bolts in place with two stainless M5 screws and M5 clips.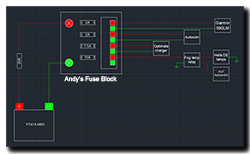 The fuse block is attached to the bracket by good old double-sided 3M adhesive pad. Wiring-up was straight forward and as I knew the overall current load it was going to feed, I used 14AWG and a 20A fuse to the input. The outputs are 2A (GPS), 7.5A (Optimate), 15A (fog lights) and another 2A (Autocom). The output wires connect to a Wago 236 terminal strip – no screws or crimps, just a strong spring to hold the cables in place. And they do hold them believe me! Each connection is rated at 16A and accept cables from 28-12AWG.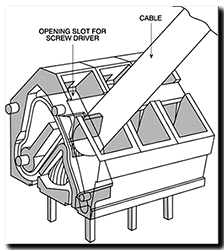 And that's it …… one neat block and no more external fuses.
In this location the battery strap retaining screw is obscured, however I only have to disconnect the ground, then the live, remove two screws and lift the fuse block out and drape it over the side of the subframe. Now the battery/screw are more accessible than they've been for years! I really wish I'd done this ages ago and I can only apologise to Andy for not putting his fuse block to good use before now. I owe you one matey!!
You can contact him via PM on the AF1 forum or at 'a' underscore 'allott' at hotmail dot com. Price is £25 UK £30 USA/EU and £35 Oz/Asia inc. P&P
Now if Mr Beast ever decides to do a Mk2 version (R U listening Andy? 😀 ) then I'd love to see a relay in the box and maybe another output …… then we could have some outputs powered continuously (like now) and some that are powered via the relay connected to the lighting circuit or a handlebar switch for example. That way I could bring the INNOVV K1 and cruise control power lines to the fuse block as well. Ahhhh …… what dreams may come true eh! 😀