Here's todays little quiz ……
What's this?
Where does it go?
How many are on YOUR bike?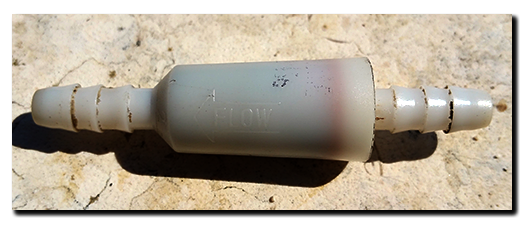 Of course the smarty-pants among you will scream out the answers to 1 & 2 in double quick time – it's a check-valve or none-return valve and it fits between the throttle body and clutch in the vacuum line. Excellent stuff, spot on …… but question 3 …… one valve or more than one? Hmmm.
Here's what Aprilia show in the parts manual (click for photo of matching engine) …..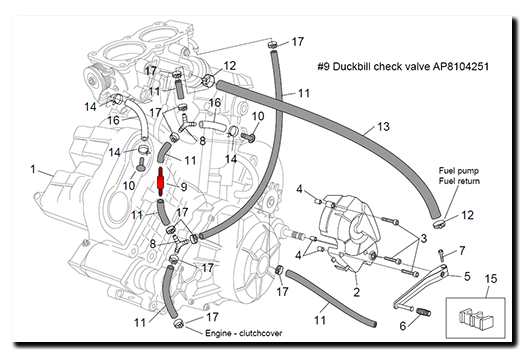 The front cylinder throttle body port has nothing but a piece of clear hose and a bung – the manometer/VAC gauge test point. All the slipper-clutch hose/valve assembly is ONLY attached to the rear cylinder throttle body port and TPS port. This may well be fine and dandy for an 01-03 bike.
But if you have a Rally-Raid or an 04-onward bike, next time you're under the fuel tank/airbox take a good look at the front hose …… my guess is you'll have a 'T'-piece and more black hose disappearing downward below the mire of cables and wires running alongside the frame. Now this might be no surprise to you, but it had me scratching my head for a while I can tell you! 😕
And this is what I've got on the Rally-Raid (click to enlarge)……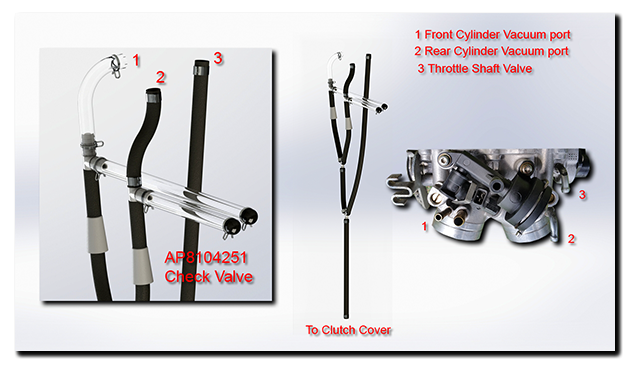 A second complete set of pipes AND a second check valve connecting to another 'Y'-piece. Why do this? Well this is my hunch, guesstimation, call it what you will ….. the 01-03 Capo has I believe a clutch pack that is 43.6mm thick, the 04-08 is 44.9mm thick. A difference of 1.3mm – in other words the valve springs will be compressed an extra 1.3mm on later bikes and that means a little more spring preload for the vacuum system to overcome when getting the clutch to slip, hence the second set of connections to improve the vacuum – 2 cylinder are better than 1! Also, two sources of vacuum from cylinders running out of phase (60° remember) may well help smooth out the pulses you can sometimes feel through the clutch lever. It simply looks like Aprilia modified our blessed Caponords and just didn't bother to update the parts manual.
So what's all the hullabaloo, why rip this poor little thing from the Capo's delicate innards? Well the long and short of it is that one of them is pooped, shot, completely knackered ….. where air should only flow one way, it flows happily in both. Looking at the defective duckbill valve reminds me of Daffy-Duck cartoons, the ones where Elmer Fudd rearranges his bill with a shotgun! No worries, simply order a replacement …….
……. Aprilia part no AP8104251   Just make sure you're sitting down when you look at the price! 🙁
I'll shortly open up a new page with some more 3D images to try to better illustrate how the system is operating at different stages and how to go about testing the valves and what to expect.