You may (or may not!) have read the post a couple of months ago – Fixing a few Capo niggles. That was where between Continental trips, the original air-box molded connection for the crank-case vent was drilled out and a new 90° bulkhead coupling and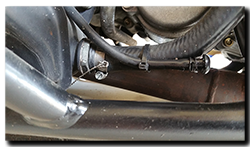 pipe fitted to drain any oil into the front of the airbox, well away from the throttle body and IACV (Idle Air Control Valve).
Now with the Caponord seriously (+1,000 miles) overdue a service, I got stuck in and removed the tank ready for plugs/air filter. I admit to being really pleased to see no oil what so ever in the upper part of the airbox and only a tell-tale smear in the front section. A syringe sucked what oil there was from the drain tube – approx. 5cc @ 3,000 miles WITH the oil tank filled to the HIGH mark.
Previously it didn't seem to matter where the oil tank level was, oil kept getting thrown into the airbox and sucked down into the throttle body. Look closely at the design of the airbox and you see the 'fenced' in area (red) around the velocity stacks – and of course, the two slots in the stacks (arrows) for excess oil to drain through.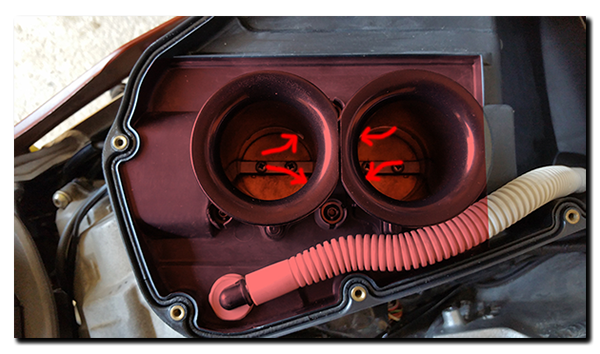 It's pretty obvious then that Aprilia/Rotax EXPECTED regurgitated oil – and tried to ensure it was fed back to the engine and burnt. Unfortunately that isn't always the case and when some bikes are left on the side-stand oil manages to get over the 'fence' and muck up places it shouldn't!
Of course a little hot oil can spread a long way and look far worse than it really is ….. I guess it just niggled the hell out of me each time I lifted the airbox lid. In hindsight it's one of those quick jobs I wish I'd done years ago.