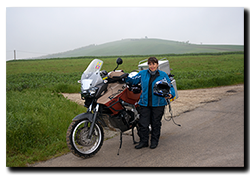 2010 ……. A year we made a mad-dash to the UK by Capo when an Icelandic volcano rather unsportingly blew its top. A year we gained a Kitten (Sam-Sam) and lost a cat – my venerable old friend Joe. A year when Kelly the English setter lost a foot but found a strange kind of companionship with a chicken! A year when the Capo went MoSFET and sported a nice new headlight switch ……. But most of all, it's the year when the moto-abruzzo WordPress website/blog went live. 5 years to the day to be exact!
Way back then, Jan told me that something like an estimated 75% of blogs are abandoned after the first three months, so I'm glad to have dodged that particular statistic …… also that the 'in' joke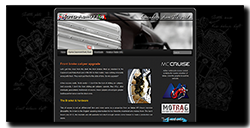 amongst the blogging glitterati is that most blogs have a readership of 1. Looks like I nailed that one then!
The reality is of course, that a site mainly dedicated to one particular bike is never going to have much traffic. In truth I suppose I have written it more as an aid-memoir for the Capo in the  years to come, a diary of one particular bikes journey and it's issues along the way.
The intention was always to keep it clear of advertising and not ask for funding to maintain it, other than that, it just goes where time and content takes it. Maybe when the
Caponord (touch-wood!) hits 100,000 miles next year I'll look at winding down the site and porting the content over to a self-publish book to put on the shelf, that way the content won't disappear if the server/host decides to pull the plug one day.
Until then of course, the increasing miles on the Capo will generate a proportional increase in site content as a consequence of needing more restoration work. There's also the question of a possible stable-mate ……. Do I plough on with the Capo regardless, or wind-down the mileage after 100k and look for something to take over the long-distance Euro trips. If so what? Inevitably I seem to go full circle and come back to square-one – another Capo, a Rally-Raid of course. I suppose it makes sense – reasonable price, ample spares to hand and a working knowledge of the model, and it does exactly what I want from a bike, period.
Either way, 2016 will be a landmark year with (I hope) plenty of posts and new pages.