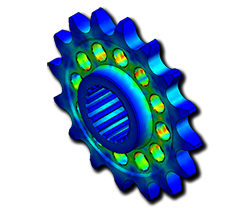 April 2020 – sadly Aurasma was bought out by HP (Hewlett Packard) who have now closed down the whole thing.
Once again I've been playing ….. this time with Aurasma. No sniggering at the back!
Another augmented-reality app that does video and 3D, admittedly the 3D isn't as good as Augmented in some ways, but in others it has definite potential. For this little magic show, you'll need to download the app (Android) to your phone and (on your PC) go to the website and open a free account. Then open the app and tap on the white triangle in the bottom/middle of the screen, now tap on the search (magnifying glass) and search for 'moto-abruzzo' then on the next screen tap on 'follow' in the top right hand of the screen …… and your done!
Now click on the sprocket above to open a larger version on your screen, point your phone's camera at it and watch Aurasma do its stuff! Impressive eh? 😀 A basic model of a Sunstar 16 tooth front sprocket animated around two axes. Unlike Augmented which is VERY expensive after your 14 day intro, Aurasma is free (for now) – and we all like freebies. I think I'll start porting my CAD/3D library of Capo parts over in the New Year and see how it goes. 😉
If you gave it a go, please leave a comment. Any feedback thoughts or ideas on how best to use this with reference to our beloved Caponords is always welcome.
Have fun!