As the evening mist rolled down the valley and the receding glow behind the Gran Sasso a lingering reminder of today heading toward tomorrow, I trundled up to the main road in the Landy to meet a courier. A dashboard perhaps, or some silicone vacuum hose I'd ordered off EBay? No Idea.
When I saw the parcel I nearly fell off my perch … a replacement GoPro camera! 😀  And not only that, but also a nice new battery as well – thank you GoPro, what a nice surprise. All in all the turnaround was 1 week from shipping the old unit to the new one turning up,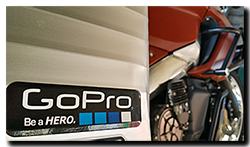 pretty damn good in my books.
The only thing to ask now is about warranty – I'm unsure about where the new camera stands. Does it only have the remaining warranty of the old unit (about 8 weeks!) or does it come with a new warranty of it's own and if so, how long? So I've sent a last email back to GoPro asking them to clarify it for me. Meanwhile, I've charged it up, got it talking to the Wi-Fi remote and GoPro app, polished its case and got the bike ready for a nice little womble around the countryside ….. all in aid of product testing of course! 😉