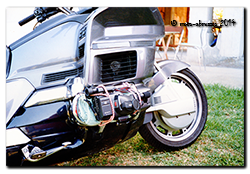 Video on bikes ……. Nothing new of course, it's been going on for ages. But for what it's worth, here's a potted history of moto-abruzzo's fumbling's as a videographer.
This pic is probably where it all began, back in 1992 on a hot day in Italy when I was bored. I strapped my analog camcorder to the cylinder head of the 1500 Goldwing and had a fun afternoon playing. The low perspective added drama to the shots and I could watch the front end working in corners …. Well as much as you can corner on a Goldwing! But of course the kit was bulky and not waterproof in the slightest,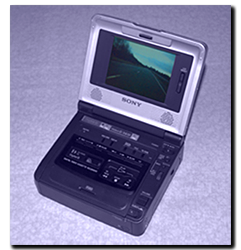 so once I'd had a play I never touched it again – especially in the rain soaked confines of the UK.
It was 2001 before I used video again. Now working as a full time Motorcycle Instructor I could see the value of using video as a training aid, so I fitted my Triumph Trophy 1200 with two 720×520 colour bullet cams (front & rear) and used a Sony Video Walkman GD-V800 deck to record. The cameras were interchangeable with PIP (Picture in Picture) so one image was primary while the other was a thumbnail in the corner. It all worked very well and I learned a great deal about camera placement, lens choice, filming and editing video from those days. Sadly, when the Trophy was written off in 2005 the video gear just sat in a corner of the workshop and never got fitted permanently again – mainly because no bike stayed long enough until I got the Caponord!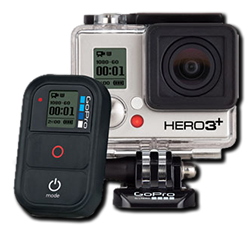 And that brings me up to date I guess. 2014, a new year and all that jazz, will see moto-abruzzo once again playing with video. Hopefully this time it will add a new perspective to the website and move things in a slightly different direction. After a few weeks of internet-homework, weighing up the pros and cons of some amazing kit, I've chosen the GoPro Hero 3+ Black as the camera platform to use. I'm not going to bang on about the camera as a zillion websites and YouTube videos are available to review this kit, it's enough to say that in comparison to previous kit I've used it look fantastic, is a magnitude more advanced and  …….  well lets just say I can't wait to get filming!