gimbal
Pronunciation: /ˈdʒɪmb(ə)l
Noun:    A device for keeping an instrument such as a compass or chronometer horizontal in a moving vessel or aircraft, typically consisting of rings pivoted at right angles.
Origin:   Late 16th century (used in the plural denoting connecting parts in machinery): variant of earlier gimmal, itself a variant of late Middle English gemel 'twin, hinge, finger ring which can be divided into two rings', from Old French gemel 'twin', from Latin gemellus, diminutive of geminus.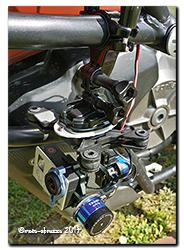 Ah …. don't ya just love a bit of ed-u-cation! Yes folks, the word of today is 'gimbal' and after a bit of thought yesterday morning, I got mine out and played with it. 😀
So what does this gimbal-thingy do then? Well, in a nutshell, it holds a GoPro camera perfectly steady in pitch and roll while the mounting point is moving around. These things are intended for use on drones, those multi-rotor helicopters that you see flying around, but one look and the old grey matter kicked in …… wouldn't that be fun on a bike!
And that brings me to yesterday morning, a half-hour blitz in the barn had a mounting plate made and another half-hour had the whole thing fitted, wired up and tested on the left hand crash-bar – which isn't too bad given that the gimbal has sat in its box since delivery two months ago.
At lunch time the start-up routine was well under way …… pat down the pockets 'testicles, spectacles, wallet'n watch' – check, key-on and wait for the dash to finish its self-test – check, fire up the motor and before the gloves go on – camera to record! And this m'dear Smurfletts is an edited video of 'Tarot Gimbal Test 1' – I like the sound the front disks make at the end of the video!
Now the keen eyed among you will notice that in bends – especially constant radius bends – the camera begins to roll in the same direction, and this had me stumped for a while. I thought it might just be settings in software, but not being sure I decided to sleep on it.
In the end I think it's to do with the fact that 'verticle' changes when the bike is in equilibrium in a turn (the whole 'leaning' thing) and this tricks the sensor into believing that 'up' and 'down' have moved – so the camera begins to tilt into the turn. Anyway I hope you enjoyed watching some or all of the video as much as I did filming it!