What with the mild winter and the vastly improved road surface, I've been lucky enough

to use the Capo far more than previous winters. That has meant the Range Rover languishing in the corner. And that has been the cause of yet more trouble.
One man's car is another mouse's home, especially when it sits day-after-day slowly dropping to its bump-stops and enticing grass and weeds to grow through the wheels. So muncher-mouse duly set up home under the battery compartment lid and made a comfy nest – from the bonnet liner, cable insulation and some hoses!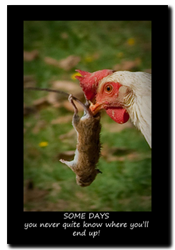 The car still started and ran, but what a mess! So I served the little darling an eviction notice (waved a big fluffy chicken!) and took stock of the damage. All this meant a trip to town for spares, so on an obscenely sunny afternoon, I took the Capo for a whiz around Pescara.
Long-story-short, I got the bits I needed AND luck would have it, I got the last bit of aluminium chequer-plate (on sale!!) to finish off the capo pannier lid modifications I started a couple of years ago. I already had the marine grade stainless steel tie-down points and hardware on the shelf, but the plate just seemed to get forgotten each time we'd been in-store.
So the Range Rover got shiny new cables and pipes and the Capo got the topbox make-over I'd waited aeons to get around too. All-in-all, a tidy result.
Oh and the mouse? Last I heard it was doing impressions of a dog whistle at Mouseville!