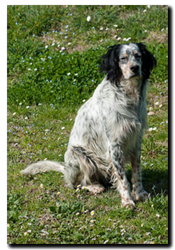 Well it's been almost three weeks now and with each passing day, we have to face the inevitable – Kelly, our faithful stray dog isn't coming back.
On the evening of the 4th January, Kelly had played enthusiastically along with the other dogs and threw down his evening meal with gusto. Later he'd returned to his bed by the front door – and that was the last we saw of him. Thursday morning he was nowhere to be seen, we thought he'd be somewhere down the woods or in a nice little sun-trap warming himself, no big deal. But when we came back from shopping later that afternoon, he wasn't there, in the middle of the gateway doing his usual hoppy-wiggly dance, proud as punch that we'd bought him some new stuff to eat, nor was he merrily snoring away in his bed. As the penny dropped, we had a search round the buildings – nothing. It was going dark now, so we could do nothing more until morning. And so the concern set in.
Over the following days, we searched fields, hedgerows and woodlands. We phoned neighbours and talked to a shepherd tending his flock a few fields away. Nothing, he'd simply vanished. During this time, the 'what-if' questions begin to make an appearance.
"He was about 15 years old the vet guessed, what if he's had a heart attack or something."
"That shepherd has some BIG dogs, what if he got too close in the night, could they have got him?"
"Has he strayed all the way over to the main road? What if he got hit, could he be lying on the verge somewhere?"
And so it goes on, an ever decreasing circle of fruitless thoughts that inevitably won't bring him back or give us any piece of mind. A wholly depressing cycle to break out of and something we had to tell ourselves when we spotted each other inevitably starting down this dark and destructive path.
Over those three weeks we've watched the temperature plummet and the snow fall and each and every day we've missed him. At first, his bowl was filled each evening and each morning the contents remained, a dull and listless reflection of its former freshness, a reflection of our feelings and like a child restless for Santa's visit on Christmas night, so we too sleep fitfully wondering if he'll visit us under the veil of darkness.
Now, the bowl has been washed and put to one side, just in case. Somehow putting it away is like admitting defeat, that he won't be back, that we've given up on him. So it sits on the drainer, ready.
______________________________________________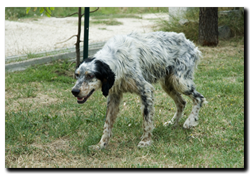 Kelly came to us out of nowhere, a bag of bones wobbling unsteadily in the garden. I don't think he had the energy to move on – it was us or nothing. His left eye resembled a bleached Ping-Pong ball and the injury to his neck looked severe and  old, he'd experienced something awful, survived and made it here.
Over the three and a half years he was here, he suffered twice more with the remnants of those injuries and in 2010 suffered the further indignity of losing one of his back feet to a farmer's unshielded mower blade. For six weeks I tended to him, four times a day. Of course he pulled through and seemed to blossom all the more! Even on three legs he could out-run the other dogs appearing like a canine 'where's Wally' everywhere you looked, hill-top or valley floor. He always seemed to be there looking back at you, waiting for his photograph.
His temperament was the best I've seen in a dog, ever-alert and quick to raise the alarm of approaching strangers,  yet inquisitive and gentle with everyone – person or animal. When he needed treatment, although the pain must have been unbearable, he never cried or lashed out …… something the vet was amazed at. He wasn't always on his best behaviour though, he had a sneaky habit of trying to commando-crawl through the hatch into the chicken pen to nick eggs and his periodic 4 a.m. barking marathons from the valley below were a particular turn-off!
But ultimately we had the most fantastic time together and we can only hope that the end – if there was an end,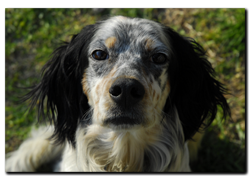 came quickly and painlessly. If not, we wish him well wherever he is.
He came out of nowhere, I guess it's fitting he went back that way.
G'night Kelly-boy wherever you are.