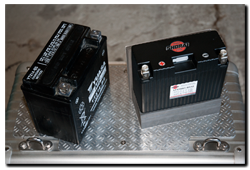 Let me start by saying that the Shorai is NOT a bad battery, it's just not the right battery it seems for a large capacity V-twin. Yesterday, after persisting with it for several months, I finally admitted defeat – one last baulked start tipped me over the edge. I wanted, no, yearned for the comfort of the old and heavy lead-acid battery and its reliable starts-every-time performance.
So is it a faulty battery then?
The simple answer is no, but it is a battery that seems to be very temperature sensitive. With ambient temperatures over 15c I had no problems, but now with the temperatures waving between 3 and 15c it's a different story. Stalled starter, slow starts and engine stalling several times before it runs reliably – all after a 5 minute wait while endeavoring to 'wake' the battery by burning off some current with the lights on (Shorai recommendation).
The battery was only ever charged on the bike or with the Shorai BMS-01 charger and over the last week or so I conducted a few tests on it. In a nutshell, this is a 6AHr battery that performs like an 18AHr – when warm. In truth it seems to perform more and more like the 6AHr battery it is as the temperature drops, the bottom line is that its internal resistance is very variable and removes any advantage the battery has at low temperatures.
Frankly it's all too fiddly and unreliable. Of course I can only comment on one battery on one large CC Aprilia, it may be far more successful running  smaller or 3/4 cylinder motors. My guess is that this battery will find its niche in the enduro/track-day sector and not necessarily be suitable in its current form for four-season street riders.
I'm really disappointed this didn't work out but pleased that Jim at AMI has taken everything I've said on board and is even now in constant communication with Shorai to try to improve the product. Let's hope a Mk3 version is just around the corner.