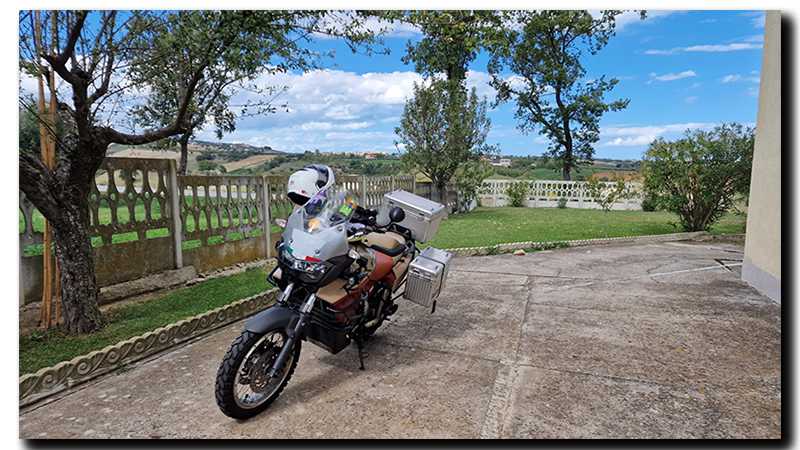 Well it has certainly been a while since I last posted on here, so maybe now is as good a time as any to pick up where I left off. As you can imagine, the last twelve months have seen many changes and a lot of things that needed to be ticked off the list of life …. the most recent being a run back home to Italy after almost four years. 2020's Covid lockdown didn't help of course and then after Jan passed away last year I just couldn't face the trip alone. But eventually the clouds parted and the Caponord got to do what it does best, run faultlessly for almost 4,000 miles over a couple of weeks! This then is a potted summary of what stuff worked and what could be improved for next time.
The fact is, lots has changed since I last travelled over – all my riding gear is different for one. The Capo has had a fair amount of maintenance/refurb during those years and even my cookware of choice had changed! Gear wise, I'm now using Rukka/Daytona and of course the venerable Shoei Neotec 2 with Senna intercom. All performed faultlessly especially in some prolonged and very heavy rain in Northern Italy/Switzerland. Expensive gear yes, but worth every penny in my book. Oh and I can't leave out the surprise of the trip … EDZ Merino wool socks! Those and the Daytona boots kept my feet comfy warm and dry like never before, absolutely fantastic.
Cookware wise, the old Trangia stayed in the loft and I used the much smaller and neater gas cooker that I got from Manuel over at motrag.com ….. as a one-person unit it worked fine for me. Hot coffee on the go in the smaller mug and and a re-heated pasta dish in the bigger one was just about perfect after a long run. Simple, compact and a doddle to use, it'll stay the cooker of choice for now.
One concern on the trip was the Capo's battery. Throughout, the voltmeter showed charging ranging from 13.9 – 14.2V depending on load, but less than an hour after shut-down the battery standing voltage would fall to 12.4 – 12.6V and that isn't great. Ultimately it never actually gave me any trouble, but it was waving the imminent flag of failure, so time for replacement. As soon as I was back in Blighty, I ordered a NOCO NLP-14 LiFePO4 battery. I have exactly the same one on a ZZR1200 and Andy (BeastHonda) has one on his Caponord ….. short and simple, they work. For the ZZR, it was a straight swap, but for the Capo, the terminals have to be modified slightly – no biggie and I'll post more on that later.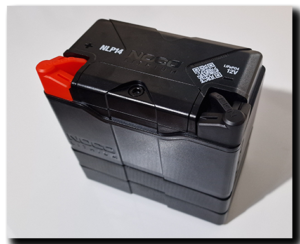 Other than the battery, the Capo performed brilliantly, returning an average of 46mpg using the heavily modified Catfish 50429 map/airbox/snorkel and even managed 52mpg through the Swiss alps. I can live with that! The Mitas 07+ tyres worked well and wore predictably, however they were a tad skittish on wet over-banding …. but maybe I'm being picky when the Capo is fully loaded, leaning and doing 80mph at the same time! Throughout the ride I used the cheaper E10 fuel as I wasn't going to be keeping it in the tank for long, but as the mileage to Calais ticked away, I changed back to E5. Once off the boat at Dover I changed again to Shell Supreme 99+ …. ethanol free. Expensive yes, but so much more friendly to the Capo fuel system.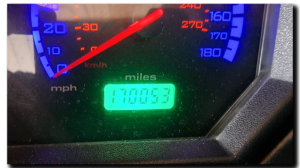 Finally I rolled into a dark and cold Oxford driveway at 1:30 in the morning with the Capo showing 170,053 miles in the dashboard. The arthritis in my knees is playing up and my backside has had enough of today …. but through all that I just feel so immensely proud of the Capo. So what next? A well earned clean and service in the short-term and then a full rebuild and line replacement for the rear brake, just to bring it back up to scratch and looking as fresh as the front brakes. I should also get around to replacing the fuel sender unit .. it stopped reading properly a year or two ago and I have all the parts to hand, but never found the time/enthusiasm. I think the Capo has earned it. After that? Maybe it's time to head North for a change, who knows.