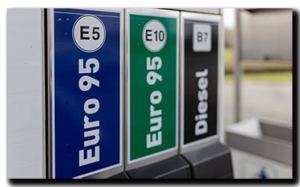 Did you get around to watching 'The Last Motorcycle on Earth'? Well this post is about a little of that fiction meeting reality right here, right now.
After much deliberation it looks like E10 fuel got the UK government green-light in February 2020 and will be on a forecourt near you in 2021 … probably/maybe. It's been on the horizon for almost a decade, but thankfully we've not had to deal with the tank bloating, seal destroying gut-rot fuel that's the scourge of the EU .. but times are a changing as the song says. It looks like the current 'Premium' fuel (E5) will become the 'Super-Unleaded' and E10 the Premium. Like Europe, it's use will be optional unlike some countries where it's introduction and use are mandatory. One note of concern though …. the proposal only protects E5 supply for up to five years after E10 is rolled out, presumably supply could then disappear from forecourts almost overnight, making refuelling an unmodified Capo awkward to say the least. And five years isn't a long time!
On occasion I would use it while travelling through Europe, but only one tank at a time, then I'd use E5 fuel to clear it out of the system and always on a journey where I knew I'd burn through it before I arrived at my destination. I never left it stewing in the tank for longer than a couple of hours. So this looks like it's time for one of those other jobs that have sat firmly on the garage shelf for the last 12 months – lining the fuel tank with Caswells Epoxy resin. Even after that's done, I think I'll try to steer clear and take the price hike to 'Super-Unleaded' on the chin…… while I can anyway.