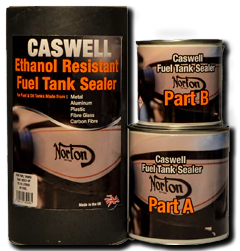 Last year (I know, a year ago!) I mentioned that the fuel sender was up the spout and the fuel level display was all over the place. In August 2018 I placed an order for a new one and then sat back and waited for a couple of months for it to arrive, then put it on the shelf and went on my merry way, happy to use the trip meter to gauge refuels.
Now though, the website is back up and running and I've developed a sudden and strange desire to resurrect all things Capo, such as finally start working toward a complete fuel tank strip and refurb which is long overdue. I had a look on the shelf to find out what I have and what I need to do the job. Here's the list:
Caswell Epoxy Fuel Tank Sealer

(On the shelf)

Aprilia fuel filter – AP8102971

(On the shelf)

Fuel level sender unit – AP8124588 (on the shelf)
Aprilia corrugated fuel hose – AP8144226 (on the shelf)
Wiring loom – AP8124664 (on the shelf)
Short fuel hose ( on the shelf)
Fuel pump

(to purchase)

New Zero-Leak ear clamps (on the shelf) HCL Clamping UK
Seal for loom – AP8144475 (On order)
Pump plate seal – AP8144478 (on order)
So that's not a bad start … and I'm not sure if I want to change the pump anyway (still pondering this one) and the old seals can be measured and alternatives found if they don't arrive in time. Applying the Caswells looks like it takes a fair bit of preparation to ensure the job is done once and done right, everything else is plug'n-play or crimp'n screw depending on how you look at it!
I'm estimating a week overall, allowing plenty of time for the tank to dry after it's initial cleanout and then a further 48 hrs or so after the epoxy lining is complete prior to reassembly. So the thumb-twiddling time will be put to use rebuilding the fuel pump/filter assembly. The downside appears to be the Caswell resin …. it's very sensitive to the temperature range it's applied at – and I only have an unheated garage to work in these days. So I think the job will have to be carefully timed to suit a week of warm, dry weather in the UK (yes I get the irony!) – Late June or July maybe?
Anyway, more on this as a suitable time approaches. Finger crossed!