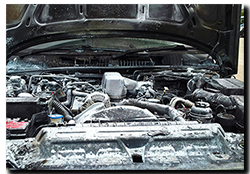 I bet you thought I'd run away with the circus it's been so long since I posted anything!
Well in fact I've been rather preoccupied with other stuff of late ….. bad wrist, car barbecuing itself at the side of the A14 Adriatic (autostrada) motorway and getting a shiny new job (and car!). But more about all that another day. For now though it's upwards and onwards with the fitting of a new toy for the Capo, or should I say toys … there are more posts to come about fatter/heated grips and reducing the torque on the twist grip for my wonky wrist!
A pair of X2 H4 (Hi/Lo) Sealight LED units in the headlights. These were recommended by Ravenranger over on the Aprilia AF1 forum and for a splash under £40 a pair (delivered) in the UK, I decided to take a punt. A neat and simple kit with bulb/box/plug connected by cables – just the right length for the Capo which is nice. Double sided Scotch 3M pads and some cable ties to mount the box's out of the way complete the parts list. They're rated at 12-24V and an output of 4,000lm (hmmm really?) and apparently fully waterproof, even the cooling fan.
I found fitting them really easy, hardly any worse than changing a standard bulb. All rubber seals and panels fit straight back into place as well. The little boxes were attached to the back of the headlamp shell with the double-sided sticky pads and it was all reassembled no problem.
NOTE: Look at the pics of the locking ring and bulb, two lugs 180º apart. The lamp can be fitted upside down if you're not careful! Don't ask me how I know this …. just be careful to check which way up the lamp is when clicking it into place.
Measured current draw on fuse A is:
Dip beam: Halogen 8.35A ( 53.4W * 2 ) LED 4.9A ( 31.4W * 2 )
Main beam: Halogen 9.6A ( 61.4W * 2 ) LED 4.9A ( 31.4W * 2 )
So a saving of approx. 3.45A on dip and 4.7A on main. As you would expect, the light is a very bright white that made the existing halogen look dull and yellow in comparison add to that the very rapid turn-on and switch between dip/main and you certainly know it has LED's installed!
But of course, this is all academic if the light pattern is junk! Night couldn't arrive quick enough for me to get out to the barn and have a good look – low beam cut-off and high beam spread being paramount. Well I have to say that initial impressions are excellent. In the pitch-black of the Abruzzo evening the dip showed a nice crisp cut-off line and distinctive kick up to the left of a UK headlamp …… flick to main and the olive grove over the road practically burst into day light – OK, not quite! But bright enough to be surprised at just how decent these things appear to be. So far so good. I'm impressed enough to want to go get kitted up and hit the road rather than head for the tool kit and swap back, which is a damn fine start in my books. The weather looks nice for the next couple of evenings so I'll dig out the INNOVV C5 and see if I can get a bit of night-time video!