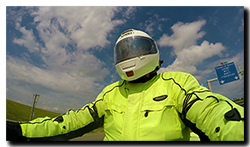 After 22 days away on the Capo I returned with a little more than I bargained for, not least a crick in the neck and a stinking cold! On the way up I met Gianluigi at the Italian/Swiss border and talked some serious Capo bling for an hour. Then rode through sunshine, drizzle, rain and freezing fog before reaching Oxford. On the way back we were treated to high winds a stunning moon-rise and some amazing early morning scenes with low-lying mist. All in all, a real slice of what Europe/UK has to offer bikers this late in the season!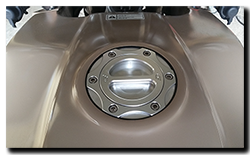 The original fuel cap was replaced with the Oberon keyless unit a few days after reaching Oxford …. it took about 10 minutes in all. It looks good, works fine and I'm no longer worrying about getting into the tank! That's the only work done on the Capo for the whole trip – 3,000 miles – key-in, ride off. No drama, no breakdowns. In fact the last two original Sagem coils are still sparking just fine after 110,503 miles!
With the panniers emptied, it was a great opportunity to restock on spares for the workshop – front wheel bearings and seals (used the last set 9 years ago!) a clutch pushrod bearing (16004), clutch diaphragm and a couple of sets of clutch master cylinder seal kits from FPE Seals Ltd. Service parts stock is now replenished with extra oil/air filters, a spare pack of DPR9EIX-9 Iridium spark plugs, red rubber grease and more Scottoil as I seem to be going through a couple of litres a year! A HUGE bag of stainless screws, nuts and washers from Jason helped balance out the panniers (cheers matey!) and last but not least, the remaining electronic parts to finish off the BMW Brake Light System (clone!) that was started in spring.
But undoubtedly the highlight of the pannier contents is the Innovv K1 dual channel Full HD camera kit. This has been loaned for review by Jim smith at AMI (Abbey Motorcycle Instructors) who should be fitting a second kit to one of his Instructor bikes over winter. I'm really looking forward to fitting this kit and putting it through its paces. In fact I've already been running the system on the workbench and making a comparison of video quality compared to the GoPro Hero 3+ and power draw etc ……. full review coming soon, watch this space!