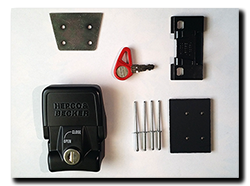 Just got around to fixing my 'breakdown' – the new latch (Hepco Becker Part No: 700101 00 01) arrived today and after a hearty breakfast I set about changing out the broken one. The kit is a 'universal' one for all HB panniers and so a whole bunch of the bits supplied are immediately resigned to the waste bin …….. I'd have been happier with just the latch and a few quid off to be honest!
So out with the foam liner, off with the bottle rack and remove the five countersunk
bolts/washers/nuts and pull the aluminium box away from the frame. Next, drill the heads off the four solid rivets using a drill bit approx 6mm or slightly larger. Then lever the old latch away and separate it from the spacer. Job done …… now for the rebuild!
The latch as supplied comes with 3mm rivets and is drilled to suit, unfortunately the Alu Exclusive luggage was put together with 4mm solid rivets because of clearance between frame and case. No worries, down to the hardware store and a bag of 4mm Dia 10mm long stainless rivets are on hand to do the business. Once in, the heads are ground down a smidgen with the Dremel to achieve the same clearance without compromising shear strength.
Rebuild is a straight reversal of strip-down, but everything gets a thorough clean, grease and general pampering to make it feel good. The pannier is now solid once again and if I get 13 years out of this lock and rivets like the last set, I'll be a happy bunny.
Thanks go to Griff at hepco-and-becker-luggage.co.uk (web face of moto bins) who chased up key numbers with me and made sure the latch was on the doorstep in Oxford the next day – excellent service.