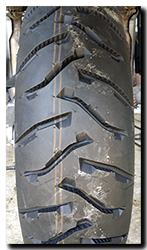 Well yesterdays arrival of a spanking pair of Michelin Anakee 3's makes the total number of tyre types fitted to the Capo a head spinning …… 5. The OEM fit Tourance, oodles of TKC80's and Karoo 3's and one fantastic set of Anakee 2's. They were by far the best with excellent grip and long life – so the Anakee 3's have a hard act to follow, I wonder how they'll compare.
With the back wheel dropped out, I decided to give everything a once over and quick scrub-up – nice and shiny like. The vernier showed the rear disk had finally met the minimum thickness (4.5mm), so off it came and on went a nice almost-new one from an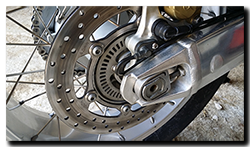 07 bike …. a floater instead of fixed. Now I must admit to being more than a little perplexed at what the hell Aprilia were thinking about when making the rear a floater – front yes, but rear! What for, where's the benefit? With 74,710 miles on it, I can't ever remember riding around thinking 'damn this bike's just screaming out for a floating rear disk' But in the end, it's what I had in my sack of goodies, so it's what went on. With the rear done, the fronts looked a little sorry for themselves, so I pulled them off and gave them a once-over and spring re-tension …… I must say they do look rather nice again!
Rear wheel bearings, seals and cush rubbers are original and all in perfect condition, so the spares can stay in the cupboard for a while longer yet. The front bearings and seals that I replaced back in 2009 (@11,700 miles) are also fine – packing the void between the bearings and seals to prevent water getting trapped seems to work wonders! So now she's all buttoned up and a final wipe with a soft cloth and ACF50 to fend off the corrosion gremlin should do the trick nicely.