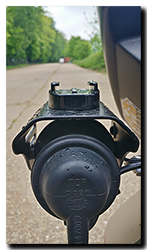 Just when I'm done-and-dusted, the tools put away and the pannier-packing well underway with only 12hrs before leaving – Manuel's (Motrag.com) parcel arrives with more goodies for the Capo! I really didn't think it would be here in time, so I'd planned to fit the box-contents on my return …. but they're here now so what the hell!
First off, a nice new left-hand lamp bracket and stronger angle-bracket with a funky new fastener – all to mount the GoPro tripod mount base. As usual, beautifully finished and perfect fit. Thanks very much for this Manuel, let's see what the GoPro makes of it!
Next, one of Motrag's new GPS mounts for the Rally-Raid. This one is for the Garmin 590LM and can be fitted directly to the supplied bracket or direct to the Accosoto cross-brace where the existing Touratech Garmin 2820 mount sits. Neat and unobtrusive (unlike an empty Touratech mount) it's functional, yet simple. I'm really looking forward to trying this out (and the 590LM) in the coming weeks as the poor old 2820 has most definitely got a touch of dementia these days – it frequently forgets what day it is, or what country it's in, bless it! More on this bracket in a later post.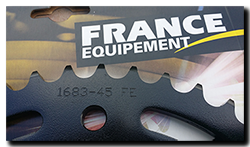 And lastly, the replacement rear sprocket and DID drive chain. A nice slotted-steel sprocket from 'France Equipement' in black. I must admit to having never heard of them before, but fit is fine and the finish seems solid enough, so we'll see what the miles make of it. The ZVM-X (in Gold/Gold) chain is the replacement for the ZVM² that has been on for a staggering 53,400 miles ….. yes one chain, one rear sprocket and three front sprockets for over 53K miles, I've never had one last like this before. The only thing negative I can muster against it, is that all the Gold wore off years ago – nowadays it's just a plain old silver chain!
That's it for the new stuff but Manuel had one more nugget tucked away in the box for me – a very clean and crack-free pair of inlet rubbers! After reading my post from a few days ago he decided to slip a pair in the box to replenish the MA spares stock – cheers Manuel you are a start indeed!
I'll end by saying that while some of these items are product testing or favours between friends, I have to make it clear that the chain and sprocket were purchased from Motrag just as anyone else can. The price is extremely competitive and shipping very quick – so next time you're in need of bits for your bike (not just Caponords), consider having a look at Motrag.com or emailing Manuel to see if a fellow owner/rider/engineer can help you out, I know I'd rather put a few Euro's his way than in the pocket of some faceless multi-corporation any day of the week.