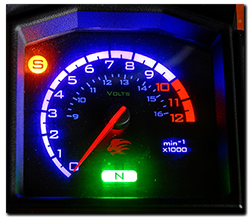 A few days ago while doing a bit of investigating for an AF1 forum member regarding the tachometer signal from the ECU, more specifically what would he observe on a multimeter instead of an oscilloscope, I momentarily shorted the tacho line against the chassis with the bike running. The tacho shut down and the bike just kept chugging along quite happily – no EFI light, no tacho. Recycling the ignition bought the tacho back to life and it's been fine ever since ……… but two points came out of this that may be of use to other owners.
Check for a fault code with TuneECU – 'P1386 Tachometer, open circuit or short to ground' 
When the ignition switch is first turned on the Tacho line should show a solid DC battery voltage – if you don't see this the ECU may well have shut down the output to protect it. Only once the engine starts will you see this signal:-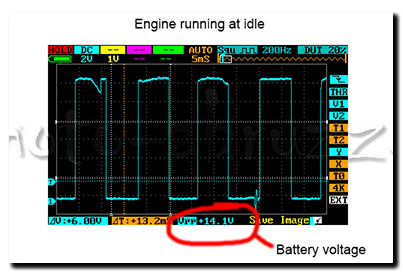 Anyway, just a quick observation, a new (to me) fault code …. one to file away in the compendium of Capo facts. It certainly proves that the tacho signal isn't just a 'dumb' signal, it's one the ECU monitors and protects as neccessary by shutting it down.