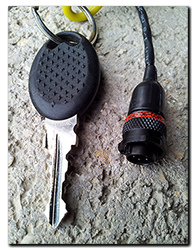 Hooking up the netbook to the ECU when datalogging has always been a pain. Seats off, fumble around for the Molex connector, run the cable under the seats, refit the seats …… and away we go. So when I saw a neat little MIL style connector that Andy has fitted to his Capo, I couldn't help asking about it.
Turns out it's made by Deutsch Autosport and they make a whole range of high quality connectors specifically for the motorsport industry. Here's a link to the catalogue. Anyway, all-round nice guy that he is, Andy made me a chassis socket and plug assembly with 300mm of loom at each end. Not only that, he popped them in the post to Italy … and they arrived a couple of days ago. And I must say ….. WOW! ….. beautifully machined and fully waterproof with a nice machined cap to keep the greeblies out.
So now I've reworked my old TuneBoy cable and installed the connector on the dash. I've used shielded cable back to the original molex plug to reduce interference on the data lines and it all works fine.
So it only remains to say a big thank you to Andy for doing this for me. I owe you one! Now if you're thinking of hot-footing it over to the AF1 forum to send Andy a PM – don't. This was a one-off kindness and he won't be making any more, so please don't ask.