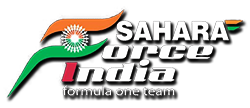 While over in the UK I popped over to Sahara Force India Formula 1 team at Silverstone to meet up with Andy (Beasthonda) from the AF1 forum. We've been exchanging emails on and off for months now and this was a great chance to put a face to the name.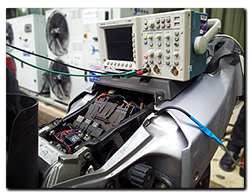 I took along my netbook and OBD cable and remapped his Capo while Andy hooked a patch-box and oscilloscope into the instrument panel wiring loom so we could accurately measure a particular signal from the ECU. It was certainly a whirlwind exercise – all done with one eye on the storm clouds brewing overhead! Everything went smoothly and afterwards Andy gave me a guided tour of the team headquarters, it was fantastic. So I'd like to thank Andy once again for his kindness, hopefully we'll meet again when I'm next over on the Capo. Cheers!
UPDATE: See the foot (bottom right) of the picture above? A fine example of a foot I think you'll agree …. but it's not mine and it's not Andy's. It belongs to Rob Ashworth who tried desperately to get out of the shot but didn't quite make it. Rob in fact supplied the oscilloscope and twiddled the knobs in a flurry of practised professionalism. As they say, better late than never ……. Rob, thank you for your assistance and it was a pleasure chatting to you.