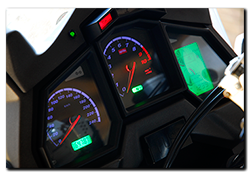 Well here it is at last ….. the green LCD Caponord instrument panel. A hot brew and an early start on a cold wintery day, had the panel off the bike and in the warm workshop by 8am. While the soldering station warmed up, I separated the cases, eased the needles off and surprised myself that all this only took a couple of minutes – no hassle with the needles at all, which is unusual!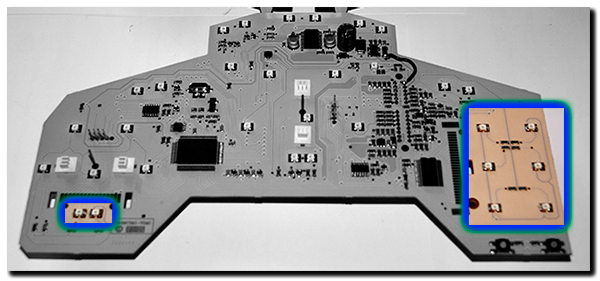 Next, the six diagnostic panel  and two odometer blue LED's were replaced with green versions, this isn't difficult but you need to make sure they go on the right way round or they won't work! The LED specification I used is:
3.2-3.8v 20ma 1000mcd green PLCC-2 SMD LED
Then I removed the old 24C02 chip and read off the data and saved it. I modified the file and wrote it to a new chip and soldered it in place. Back out in the cold I plugged the board into the bike and got ready to switch on. Would it, wouldn't it ….. blingy lights or a puff of smoke? Hoorah – we have bling!!! The case was buttoned back together after giving the clear lens a clean and checking the rubber seal was OK. All in all, about an hours work, time for another brew then.
So is it just a bling-thing or is their anything worthwhile about changing the LED's? Personally I prefer it in green, the contrast between digits and background is better making it easier to read the display on the move – sadly the photographs don't reflect how good they really are. Also the green LED's are brighter than the blue and that certainly helps. Keeping the blue LED's behind the analogue gauges adds a nice touch, balancing out the green.