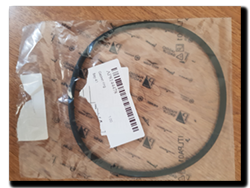 Fair to say, things have REALLY dragged on this year. The fuel tank overhaul I mentioned in May and planned to do in July is still firmly on the to-do list -why?
I had 90% of the parts on the shelf in June and only had a couple of 'O'-rings to order. The parts lists don't give a size for these particular seals, so I needed new ones from Aprilia to measure for future reference – no problem really, they'll only take a week or so to arrive I thought. Yeah right.
So I put together a list of parts and punched them into the Fowlers online ordering form. All items were available – except one. The dreaded 'back order' item. The deal was, wait for the back-order part and we'll ship them all together, or we'll send the in-stock items and charge you £3.95 to post the one remaining tiny back-order item. I decided to wait.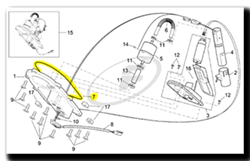 And wait they made me do alright ….. almost two months in fact!
In the end the parts arrived of course, but by then the warm and dry summer weather had given way to almost daily rain and nights drawing in earlier and earlier. But on a positive note, I have now measured the main O-ring I was interested in and can finally post up the size and alternative (UK) that you can have delivered within a day or two, not months! Far quicker and quite a saving on the £30.30 plus delivery for the genuine part.
AP8144478 Equivalent: 142.88mm ID 5.33mm cross section – Viton
£13.91 plus VAT (for two) from Simply Bearings Ltd (October 2019) – Thanks to Beasthonda for measuring for me!