The Capo had barely started cooling down after the 24hr trip from the UK before it was given a once-over for the trip South the next day. Everything was fine with just the chain getting a clean and fresh re-lube before the Scottoiler took over once more.
The next day we stood outside the Hotel Santa Caterina – Amalfi waiting for the guy to take us to the secure garage (with CCTV) the Capo would call home for the next day or so. The weather was warm (28C) and I was well sweaty …… mostly from the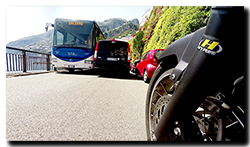 shock of the coast-road ride. Tailgating (I mean inches/CM!) topped off with blind-bend overtakes and head-on riders/drivers all doing their level best to stuff us into a cliff wall or over the edge into the sea. It felt personal! I thought I knew a thing or two about Italian driving but this made Abruzzo drivers look like kindergarten newbies. Also for the first time ever, I wished I'd had a 17 tooth front sprocket instead of the 16. 1st felt too revy and 2nd bogged down – I needed a 1½ gear! And yes ….. Getting anything above 2nd was almost impossible with hair-pin bends only a few meters apart for the entire 25 Km of coast we travelled.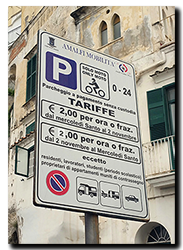 Parking in Amalfi is almost none existent by the look of it, so if you do go, make sure you have it arranged with your hotel/B&B or it could be very costly indeed – €5 Car / €2 Motorbike PER 2 HOURS. Mind you that's chump change, coaches' pay up to €200 per 2 hours!
We stayed at a lovely little B&B (Villa Rina – 5 guest rooms) nestled in the lemon groves overlooking the sea that was about 1/2Km and several hundered steps up the hill from the garage. Luckily the garage had a bathroom where we could get out of our bike gear and into something more befitting an uphill walk in the afternoon heat! In fact we left all our bike gear with the Capo and only had the tank-bag and one hand luggage to carry which was fine – unlike the poor ladies we saw with large suitcases and high-heels looking most uninspired by it all!
Overall a smashing break with great food in a wonderful location and we managed to dodge the rain / thunderstorms on the way back as well! The Capo is now showing 97, 744 miles and really ought to have a service next week – it's a fair exchange for a job well done.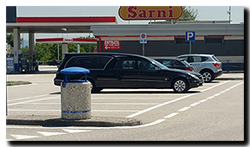 Finally ….. here's something you don't see everyday in a service station. They certainly know how to go out in style I'll give them that …. and it certainly looks like it can get a hustle on. Yes, a 'guest' was on board as well! 😯