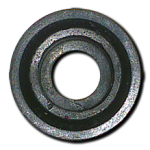 Recently while visiting the AF1 Futura forum, I saw an interesting thread about replacement clutch master / slave seals (common to both Futura & Caponord) sourced in the UK at a very good price and thought the information well worth sharing here.
The thread was started by a UK owner – Corsehf (Andy) in which he quotes replacements for all the master / slave cylinder seals from one supplier. Seal details and individual prices are:
Master Cylinder Seal – Lever End:

SU12-6.9-4DE-EP-S-DK101

– £2.50

Master Cylinder Seal – Spring End:

SU12-5.2-3.8-EP-S-DK106

– £2.50

Clutch Slave Cylinder Main Seal:

SU112078-018DE-EP-S-DK101

– £2.79

Clutch Slave Cylinder Piston Pushrod Seal:

SS8-16-7-SC

– £1.60
That's a total of £9.39 + Vat = £11.27 plus package & post. So for somewhere around the cost of one genuine slave cylinder seal, we can buy ALL the seals needed for a full clutch system rebuild. Not bad in my books! If you're interested, call Rebecca Pattinson at FPE Seals on 01325 282732 or email: [email protected] If you do decide this is for you, then please drop by the thread and offer Andy your thanks …. he's just saved you a pocket full of money!
So I'll end with a big thank-you to Andy, then get a set on order and nip into the barn to dig out that old master cylinder and finally get it re-coated and re-sealed, then swap it for the brake fluid damaged one on the Raid ….. oh happy days! That things been bugging me for years.