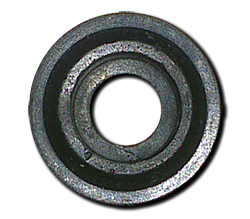 UPDATED MAY 2019
A nice bit of news has come my way regarding the Caponord clutch master cylinder. If you're ever thinking of finding a repair kit for it ……. good luck. No one has so far. But a couple of weeks ago I was contacted by Eddie in the Netherlands, who being a rather determined chap, wouldn't accept no for an answer. So he set about hunting through 12mm Brembo kits used by various manufacturers to try and find a suitable seal.
Well the bottom line is that after finding, fitting and testing a kit for several hundred killometers, he's found a solution ……… from the KTM EXC125 – 520 range, part number 50313061000 and priced at £17.28 in the UK.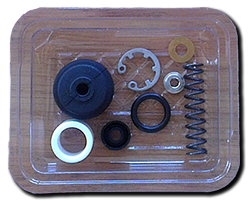 Now this may seem very expensive for a kit you will only use the seal from, but when compared against the cost of a new master cylinder or a second hand one from EBay of suspect quality, it makes the cost a little easier to swallow.
I have to wonder at the logic of producing various 12mm seals that would only be used in a few thousand units, compared to making one seal that will be incorporated into many kits throughout the years. If you spend a little time online and look at decent photos of various 12mm kits from old-timers like the Ducati Pantah to modern KTM's the seal looks awfully familiar. Of course, getting your hands on one and trying it is the only difinitive proof. And an expensive hobby!
So I'd like to thank Eddie for contacting me and sharing this valuable information, I owe you a beer!
UPDATE MAY 2019
It looks like Wemoto (UK) are stocking a kit for the Capo. Well at least they list one! I haven't bought one yet, but good friend Beasthonda from the AF1 forum has and I had a look at it last week. The main piston looks to be a little shorter, only a millimeter or so, and that may not even be an issue when the pin is adjusted to suit. Anyway I'll update again when the kit is fitted and hopefully working.