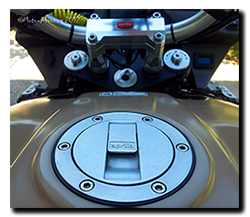 In the last post I mentioned the improved economy of the Rally-Raid over the recent three weeks continental trot.
Low:
45mpg
Avg:
48mpg
Best:
51mpg
Well that wasn't the whole story, those were the results from the majority of the journey but not the last 250Km. Oh no. I guess the answer starts with a question; do you ever get tired?
Let's face it, motorways are mind numbingly dull and the A1/A14 from Milan to Pescara is no exception. The only technical section is the last 200km or so through numerous tunnels that wind their way along the Adriatic coast. After 22hrs and with 250km to go I was bushed, knackered, veritably cream-crackered as they say. Stop the bike and I felt fine, but 10 minutes back in the saddle and I flagged badly – not clever. I needed a pick-me-up, something to fine-focus the concentration and fire up the juices.
Do you ever consider divine intervention or guardian angels?
Well either luck, chance, chaos theory or someone watching over me knew just what I needed ….. and it came in the form of two Moto Guzzi Stelvio's. As they passed waving cheerily I decided to tag along. And so over the next hour or so these two riders not only brought a smile to my face, but also educated me as to the whereabouts of various cameras as we periodically slowed, then rolled on again as we attacked each tunnel with gusto.
The pace was 'somewhat velocious' with the heavily laden Capo handling superbly as we swept through ever tighter tunnels on the approach to Ascoli Piceno, at one point the right boot tickling tarmac as we rolled on the gas in a decreasing radius bend; to say I was loving it would be the understatement of a lifetime! Sadly all good things come to an end and they eventually indicated off the motorway. A tap on the gas brought the Capo alongside and for a fleeting moment we waved and grinned like naughty school kids, then they slid away down the slip road out of sight. I wish I could tell them how much their company had meant to me at that time.
The last kilometres slid under the wheels without incident and home was mere minutes away. The next day I wondered how the exuberance of yesterday's  dash had affected the consumption of the Capo …. 40mpg? ….. 35mpg?  Now the remorse set in. Dear Dog what had I been doing; while I grinned like a loon the Capo was probably drinking fuel quicker than a ladette on a Friday night binge! The tank was filled, the mileage taken. The clatter of calculator keys …..
44mpg!!!!
I was expecting much worse. Happy days … I can live with that!  😉