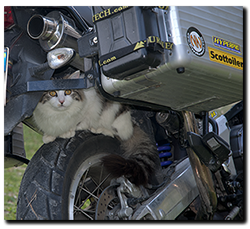 The Quill Evo2 cans and link pipes had been on the Capo for a couple of years and sadly, never fitted properly. After spring I gave up waiting for a replacement left hand link pipe from my to-busy pipe bending chappie, so I decided to go back to standard cans. Then realised after 5 minutes – bad move! Way too muted, woolly and heavy! I wanted the best of both worlds!!!
So in August, after much pondering, I went for a hybrid system. The standard cans were cut from the their link pipes and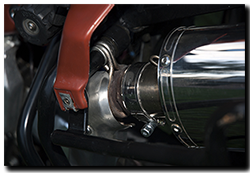 the remaining weld ground down to suit the external diameter of the Quill can inlet. An adapter sleeve made from stainless was fabricated to fit the Aprilia 45mm pipe to the internal 54mm of the Quills. These were welded onto the link pipe and the cans held in place with Mikalor stainless steel clamps and a little exhaust paste on assembly ensured a nice gas tight seal. Now the system also has a more robust three point mount compared to the Quill original two point.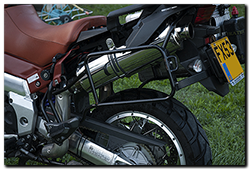 The Aprilia link pipes are 45mm diameter and have Catalytic converters installed compared to the free flowing Quill ones – straight through 50mm, so generate a little more back pressure, not as much as the standard silencers though. The benefit has been in the sound department, the Quills still have the wonderful base-burble, but have lost the sharp edge … the 'bark' that they had before, making them much more pleasant to ride with, especially for the pillion!
So for me it's been a win-win on this one. Looks, weight, sound and fit.
Map tweaks in the UK were minimal, suggesting the link pipes make little difference; as suspected, the standard cans are the biggest restriction.