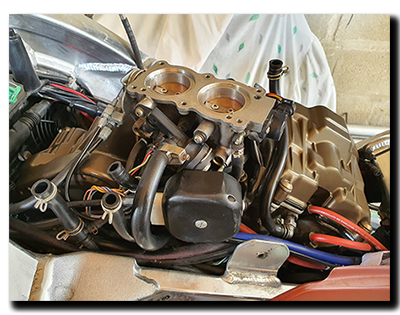 As I sit looking at the vast expanse of white in the WordPress editor window, fingers poised over the keys and acutely aware of the aches in my fingers and wrists and subtle waft of soap barely masking the hint of worn out engine oil clinging stubbornly to the creases in my old hands, I think to myself ….. aaagggghhhh why did I bother!
Yes, another Caponord service is over – with a valve check. Don't get me wrong, everything went well, couldn't have gone better in fact. Air/Oil filters and engine oil, plugs, hoses, fuel tank drain lines etc … are just perfect … but this time I had to fight my way in to check the valves, last done sometime when Crackerjack was on black and white TV's – or so it feels.
Don't get me wrong it's not a hard job, just a fiddly one, especially the front cam cover bolt beautifully obscured by the coolant thermostat, oh and the buggeroo of a screw at the front of the cam cover, behind the radiator and below the finger shredding plastic mount for the front coils … otherwise, all good.
It's none of that that bothers me in reality. It's the fact that when you get in and measure the valves after what seems like way too many miles since the last visit, they're all bloody fine! Couldn't just one be out, just one require a shim change just to make the whole visit worthwhile – please! Oh well, I guess I had to console myself with fitting the powder coated cam covers and savouring the moment in the golden hour at the end of a beautifully warm day.