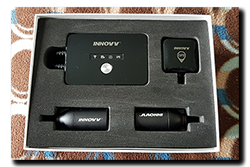 Yes folks, the all new INNOVV K2 arrived this sunny Saturday afternoon. I ripped the box lid off and took a quick pic of the new 1080p dual-camera WATERPROOF replacement to the K1. Out of the box, the recording unit is smaller, but better built and no longer has a screen. The cameras appear to be the same as the C5 but with different connectors, and the GPS is a new smooth (and waterproof) design – very nice! The lack of screen is of no issue, as the recording unit uses your phone (K2 app) to adjust settings and view both cameras. This is how the C5 works and I prefer it to be honest.
So on the workbench it went. Load up the K2 app on the Samsung Note 8 and within a couple of minutes its settings were adjusted, the SD card formated and it was away doing what it's made for – recording!
As I write this it's happily sucking up 350ma at 13.8v and working perfectly. The images look a magnitude better than the K1 and everything seems to run a little cooler than the old K1, I'll know better after a few hours on the bench. So the upside is that it has arrived and looks a great leap forward from the none-waterproof K1, the downside is that I've now got to strip out the old system and install this one! Oh well, I guess that's what the 3D printed mounts were destined to be ….. temporary!
Stay tuned for more pics and video when they're installed.