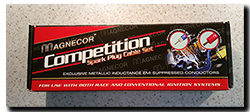 The modified HAAS coils have been on now for just over six months and 12,000 miles and everything is ticking along just fine. Even so, the Capo needs a few treats every now and again, so I thought a nice new set of HT leads might complement the new(ish!) coils. Besides, the old OEM HT leads have been on the bike for 14 years!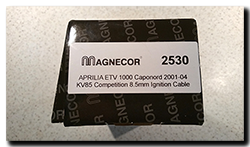 So a couple of weeks ago I placed an order with Race Spec Performance (UK) for a set of Magnecor KV85 (Part No: 2530) HT leads. These are made on an order-by-order basis and this means a bit of a wait if lots of orders are flooding in as the riding season gets underway. They make it very clear that the wait could be three to four weeks. I wasn't in a rush, the wait would be fine. So I was pleasantly surprised when they rocked up on the doorstep in just over two weeks – excellent stuff!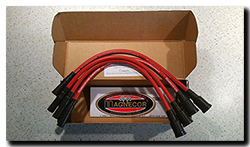 Now these leads are designed to fit on the OEM Sagem/JCI coils but also fitted my modified HAAS coils with no issues at all. Well maybe one ……. the rubber boot is such a damn good fit it doesn't allow the air out as the lead is pushed into place – so the trapped air just builds up pressure as the volume decreases. Then when you let go it oh-so gently pushes the lead back off again! The trick is to get it seated properly then slide something blunt up under the boot until hearing a 'psstttt' as the trapped air escapes …… NOW the lead is on securely!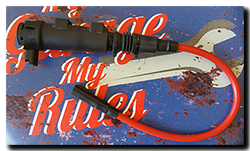 Overall the caps are shorter than the OEM angled ones and even with 8.5mm diameter cables the fit and bend of the supple cables is perfect in all four mounting locations. Overall length is fine allowing cables to be routed comfortably without trying to lose excess cable or bend cables in an unreasonably tight radius. And of course, now the engine looks way more powerful with these bright red babies in place!
Would I buy them again? Yes. I'll definitely pop a set on the other Raid, with one proviso – I'll skip the international shipping as it's a bit steep (£16 versus £4.99 shipped within the UK). Otherwise at £50.99 I'm happy enough given the quality of the product, excellent fit and 10 year limited warranty. So lets start clocking up the mileage and how well they last!