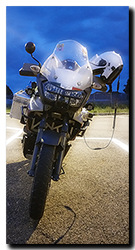 The Motrag radiator guard has been on the Capo for about 6 weeks/4,600 miles. In that time it has been through driving rain, blazing sunshine and a temperature range of 7C to 35C. Not exhaustive, but a reasonable range of conditions and mileage on which to update the original review.
I don't know about your Capo, but mine has always had a bit of 'character' when it comes to engine-temp versus ambient-temp. Below 25C ambient, the coolant will read a rock-solid 75C day in, day out. But as soon as the ambient temperature begins to rise above 25C, so will the engine-temp. By 35C outdoors, the Capo will run at no lower than 78C AND get hot under the collar when stationary far quicker. Quite understandable and besides, it has done it from day one and never changed – even when the coolant has been!
So how did the guard fare?
Quality: Superb! It looks as good now as when fitted. No corrosion or stone damage to the powder coated mesh that I can see.
Fit: Adhesive pads are still firmly attached to the radiator after undergoing wide temperature variations and vast amounts of rain!
Affect on cooling: With ambient temperatures below 30C no noticeable difference in day-to-day running. Above this temp, a slight increase (approx 1-2C) was noticed along with slightly reduced time to fan-on when stationary. However I'm talking a change that was deliberately being looked for and based on years of experience on my Capo 'as standard'. The fact is the difference is subtle and hardly noticeable at all and most certainly NEVER causes an issue.
Conclusion: This is a quality product at a good price that does the job intended and (to my eye) looks jolly nice as well. Protection, durability and aesthetics for under €70 can't be bad in my books …. and if your reading this Manuel, bag up another one please for the second Raid! 😀
motrag.com – Radiator guard €64.95 inc. tax